Music Reviews
Reviews of musical shows, concerts, club appearances, and records.
If you have ever visited any of the Halloween theme park attractions or Halloween haunted houses & hayrides that proliferate during the October season, there is a good chance that your eardrums have vibrated to the melancholy music of Midnight Syndicate. The group, which usually consists of Edward Douglas and Gavin Goszka, almost single-handedly established [...]
With their series of Halloween CDs, "In A World" has established a unique musical identity. Neophyte listeners looking for an example of the group's work should turn to Hallow's Eve, Volume III: Dead of Night, a collection of instrumental music and soundscapes that works as both enjoyable party music and sinister soundtrack to a terrifying tour through a Halloween haunt
Early this week we got one of two performances of iGhostat the NoHo Arts Center in North Hollywood. Although billed as a "new" musical, this updated adaptation of Oscar Wilde's story "The Canterville Ghost" has actually been knocking around for a few years, at least according to one announcement made before the performance. The performance at NoHo was a staged reading, without sets or costumes – which is a bit disappointing, because one of the joys of the Arts Center (one of the best local theatres in Los Angeles) is the clever way they utilize their limited space (as in their production of Dracula earlier this year); however, the major of the story is conveyed through song, so even without the theatrical trappings, the cast managed to bring this ghost to life.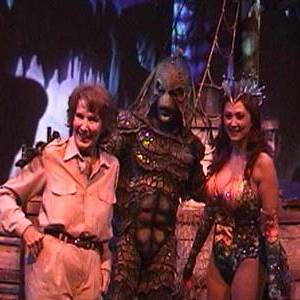 Fifty-five years after first appearing in THE CREATURE FROM THE BLACK LAGOON – modestly budgeted but moody monster movie – the Gill Man made his singing debut this morning at Universal Studios Hollywood. The facility that housed the Dracula stage show decades ago is now home to "The Creature from the Black Lagoon: A Raging, [...]
I first heard of The Rocketz when I saw them at Knott's Berry Farm's Halloween Haunt last year. (You can check them out in the video I shot taht night; they appear at approximately 6:30.) As a rule, I don't bother with the shows at the Haunt; I'm there for the Halloween mazes and rides. [...]
Once upon a time, not so very long ago, Halloween music was more or less synonymous with novelty records: "Dinner with Drac," "Monster Mash," etc. There were a few mainstream artists who dabbled in the field (both Jumpin' Gene Vincent and B.B. King recorded songs titled "Haunted House"), but these songs – as much fun as they [...]
Looking for something besides novelty songs ("The Monster Mash") or instrumental soundscapes (Midnight Syndicate) to haunt your Halloween party? Well, here' a little good, old-fashioned rock and roll in the form of a concept album that journeys deep into the dark side of the human soul, combining rhythmic riffs with spooky lyrics – all wrapped [...]
Looking for nightmarish music to haunt your Halloween party? Or ambient textures to enhance your Halloween haunt? Well, look no further than Hallow's Eve, Volume II: The Horror – in which the musical group In a World offers a series of instrumental soundscapes in the spirit of the Halloween season.
National Public Radio has posted a list (along with audio samples) of their "Top 5 Creepy Halloween Classicss."
Obvious entries like Bach "Tocatta in D Minor," Mussorgsky's "Night on Bald Mountain," and Grieg's "Hall of the Mountain King" are missing. Instead, the selections are:
Firebird Suite: Infernal Dance
Danse Macabre
Dance of Terror
Mephisto Waltz No. 1
Symphony Fantastique: Dream of [...]
This odd artifact from 1978 is a schizophrenic hybrid of its era. On the one hand, its use of orchestra and synthesizers — combined with electric guitars, bass and drums — suggests an ambitious prog-rock effort; on the other hand, much of the background music consists of a repetitive disco beat that undermines the grand [...]