Archive for Seaside Haunt
You are browsing the archives of Seaside Haunt.
A little pre-Halloween housekeeping: I have just added a new page to the Halloween Haunts section of Hollywood Gothique. Entitled, "Graveyard of Lost Halloween Haunts," this page collects all of the various Halloween events in Los Angeles that have passed into the dust of history: Halloween Haunted Houses & Hayrides, Halloween Yard Haunts, Community Halloween [...]
The Los Angeles Halloween season begins in earnest tomorrow, with the opening of the Knotts Berry Farm Halloween Haunt and Halloween Horror Nights at Universal Studios Hollywood. Before we begin to savor the delightfully dreary ambiance of these and other Halloween events in Los Angeles, we should cast our mournful eyes back through the hazy clouds of time and take a moment to to pay tribute to those haunted attractions that have gone to the grave forever, never again to resurrect each October for annual enjoyment of all things macabre. Click through to read our list of the Los Angeles Halloween attractions we mourn the most deeply.
John Casella, who helped design and build Spooky House, writes in to clarify the details about what is happening with that haunt and the other Halloween properties once owned by the late Bob Koritzke. Basically, it sounds as if elements of those attractions will be incorporated into this year's Haunted Queen Mary:
Due to the unexpected death [...]
Here is a video shot on Halloween night last year of the final performance of Seaside Haunted Theme Park. Formerly known as "Seaside Haunt," this Halloween attraction was under new management in 2008; unfortunately, it failed to live up to its formerly glory. Part part of the Spooky House family of haunted houses (which also included Fearplex and Old Town Haunt), it featured some familiar sets and decorations that used to be part of the three separate mazes that Spooky House ran back when they were located in a mall parking lot on Topanga Canyon Boulevard. It was nice to see them hauled out of the mothballs and put back to good use, but along with them came an unfortunate handicap that the Spooky House haunts had overcome in recent years: a tendency to feature lengthy elaborate sets with few actual scares. The result was a bit like walking through a spooky museum – fun but not always as frightening as it should be.
The ripple effect of Bob Koritzke's Bob's untimely death in July continues to impact upcoming Halloween events in Los Angeles. Skull Kingdom, Old Town Haunt, and Seaside Haunted Theme Park were among several attractions that were owned or co-owned by Koritzke, also including Fearplex and the grand-daddy of them all, Spooky House. Koritzke's death left the future of these haunts [...]
Since the untimely death of Spooky House owner Bob Koritzke in July, it has been unclear whether the long-running Halloween haunt – one of the most successful in Los Angeles – would continue without him. I have just heard that the Spooky House brand name has been sold; it will be incorporated into the Queen Mary [...]
Just received some sad news: Bob Koritzke – chief owner of Spooky House, Old Town Haunt, Seaside Haunt, and Skull Kingdom- passed away over the 4th of July weekend, apparently of a heart attack. This is a blow for fans of Halloween in Los Angeles; Mr. Koritzke's popular haunted house attractions were some of the [...]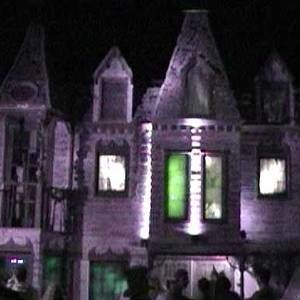 NOTE: Hollywood Gothique's annual Halloween Haunt Odyssey is a sort of unofficial tour of yard haunts in Los Angeles, many of which are open only on October 31st. Each year, we hit a few old favorites and search for some new discoveries.
Yesterday, in Part 1, we laid to rest our impression of the local yard haunts that [...]
It is never wise to divine too much from isolated reports, but I did want to mention that one or two people have contacted me to say they were disappointed with this year's version of Seaside Haunt. We have not attended this year, so we cannot confirm; all we know is that the haunt is [...]
Made it out to the final night of Seaside Haunt's 2007 presentation. We were just too busy to get out to Ventura during October; since they stayed open through Saturday, November 3, we decided to make that our last big event of the elongated Halloween season. It was the same basic haunt as last year, [...]
Most of you are probably sick of Halloween and looking forward to Thanksgiving and Christmas. However, before bidding adieu to the October season, some of you are no doubt wondering: What were the best Halloween haunts this year?
Well, I'm here to tell you. But first, the ground rules: in order to make each year's list [...]
Reporter Karen Lindell quotes me extensively in "Nautical Ne'er Do-Wells," an article in the Ventura Count Star, about the Seaside Haunt.
Seaside Haunt is orchestrating a promotional push this year, trying to encourage Halloween enthusiasts to make the long trip out to Ventura County Fairgounds. The press kit they sent out included my review from 2005, [...]
For our first scare of the Halloween season, we opted to return to Seaside Haunt. We can't really improve upon last year's review; we can only say that everything seemed just as good this year.
We say "seemed" only because the folks who work there expressed some some dissatisfaction with their ability to get the haunt [...]