Archive for Halloween Terrorfest
You are browsing the archives of Halloween Terrorfest.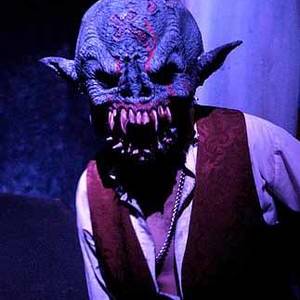 You have idled away the Halloween season; your best of intentions have dwindled away to almost nothing, and now you find yourself on October 31 with too little time and too many haunts. You cannot get to all of them on Halloween night, and unfortunately most are not taking advantage of the weekend to stay open an extra day on November 1. What are you going to do? How can you prioritize? Well, it is your great good fortunate that you are reading this article, because we are about to enumerate 2009's must-see Halloween events in Los Angeles and the surrounding areas. These are the best Halloween haunts, rides, and mazes – the ones you will regret missing if you do not make the extra effort necessary to enter their murky portals before the witching hour sounds tonight. Be bold and brave, dear traveller, and as you ride through the night, urged on by ghosts and goblins, do not despair of reaching your final destination before dawn, for remember: "the Dead travel fast…."
This is old news at this point, but I wanted to follow up on a post I wrote back in September, about Shipwreck Productions attempting to launch a new Halloween haunt in the wake of losing their gig at the Queen Mary TerrorFest. Basically, Shipwreck had been set to do the Haunted Queen Mary again this [...]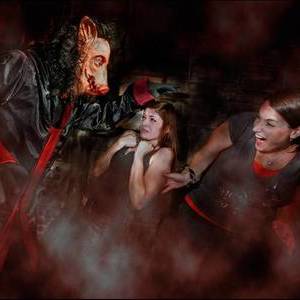 Hallowen really heats up this weekend. Things kicked off the last week of September with Knotts Scary Farm, Old Town Haunt, and a few others; now that October has arrived, more of the major Halloween events in Los Angeles are rolling out their big guns: Halloween Horror Nights, The Haunted Queen Mary, Six Flags Fright Fest, Legoland's Brick-or-Treat, and the new Los Angeles Haunted Hayride.
John Casella, who helped design and build Spooky House, writes in to clarify the details about what is happening with that haunt and the other Halloween properties once owned by the late Bob Koritzke. Basically, it sounds as if elements of those attractions will be incorporated into this year's Haunted Queen Mary:
Due to the unexpected death [...]
In a recent post, I noted the changes taking place at the Haunted Queen Mary for Halloween 2009: new management, new mazes, lower tickets prices. But what of Shipwreck Productions, the company that haunted the ship for the previous forteen years (under the banner of the "Queen Mary TerrorFest")? On their MySpace page (www.myspace.com/queenmaryshipwreck) they [...]
There are big changes taking place in Long Beach for this Halloween. Shipwreck Productions' old "Queen Mary TerrorFest" has morphed into "Shipwreck Halloween at the Haunted Queen Mary." The new incarnation bills itself as "15 Nights of Terror," featuring "Haunted Attractions & All-Night Parties." The Queen Mary has long offered one of the biggest Halloween events in [...]
The ripple effect of Bob Koritzke's Bob's untimely death in July continues to impact upcoming Halloween events in Los Angeles. Skull Kingdom, Old Town Haunt, and Seaside Haunted Theme Park were among several attractions that were owned or co-owned by Koritzke, also including Fearplex and the grand-daddy of them all, Spooky House. Koritzke's death left the future of these haunts [...]
Since the untimely death of Spooky House owner Bob Koritzke in July, it has been unclear whether the long-running Halloween haunt – one of the most successful in Los Angeles – would continue without him. I have just heard that the Spooky House brand name has been sold; it will be incorporated into the Queen Mary [...]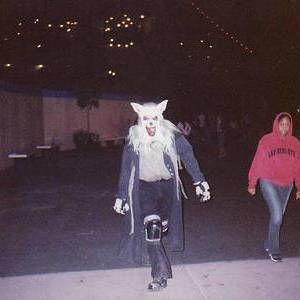 Shipwreck Productions has posted dates and information for the 2009 Terrorfest aboard the Queen Mary.This year's Halloween celebration will take place on Fridays and Saturdays in October: 2-3, 9-10, 16-17, 23-24, 30-31, from 7:00pm until midnight (possibly later on some nights).
Tickets are $35 for regular nights, $20 for preview nights (the first weekend, October 2 [...]
Here is one that almost slipped under the radar (h/t to Steve Jarvis for bringing it to my attention): This weekend, the Paranoia Film Fest is taking place aboard the Queen Mary in Long Beach. The three-day fest, running Friday through Sunday, will include of the entertaining FINGERPRINTS, the execrable DARK REEL, plusseveral other feature [...]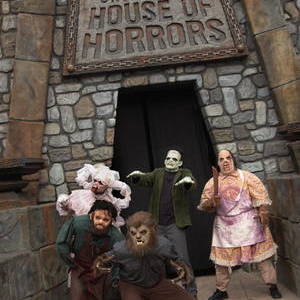 Halloween is approaching, so I am anticipating the annual flurry of email messages asking: Which major theme park offers the most exciting Halloween events in Los Angeles? In order to avoid answering this question multiple times, I will address it in this post, hopefully once and for all.
People want to know what is the best [...]
The Queen Mary is offering STAR TREK: THE TOUR this month in the dome that used to house the Spruce Goose, right next to where the ocean-liner-turned-hotel is permanently docked.
The tour is open:
Monday-Thursday, 10am to 6pm; last guest entry at 4pm
Friday-Sunday, 10am to 8pm; last guest entry at 6pm
Tickets for adults are $30 on weekdays, [...]
It has been three years since last we posted a review (on October 9, 2004, to be exact) of the Queen Mary Terror Fest.During that time, Shipwreck Productions, the company that haunts the venerable ship during Halloween, tried moonlighting with Scareplex, a haunt located in the Pomona Fairgrounds. We never made it out to Scareplex, [...]