Archive for Old Town Haunt
You are browsing the archives of Old Town Haunt.
Once again, Hollywood Gothique finds itself transgressing the borders of its native soil in pursuit of Halloween events of northern climes of California (in this case, the Winchester Mystery House Fright Nights), leaving us without adequate time to fully review all the great Halloween attractions in Los Angeles. Allow us to rectify this error with a trio of mini-reviews, focusing on Old Town Haunt, FrightFair, and Wicked Lit – each of which made it onto our lists of 2012 Halloween Recommendations.
The Queen Mary, Haunted Hayride, Reign of Terror, and other must-see Halloween haunts open this weekend.
This is it! The Gates of Hell have opened! The tombs have been torn asunder! The graveyards have disgorged their ghosts, and the bats have flown the belfry! In short, all of the major Halloween events in Los Angeles have [...]
Wondering what will be the best Halloween haunted house events in Los Angeles this year? Which should you eagerly anticipate like Dr. Markway swooning over Hill House in 1963's THE HAUNTING? Which should you avoid like the Lutz family considering a return to Amityville? Hollywood Gothique acts as your real estate agent, taking you on a virtual tour of all the hot haunted properties that should be on your 2012 must-see list.
Pasadena's darkest lair of Halloween horror returns for another season of subterranean shivers – promising to be longer and scarier than ever, with new added attractions. Housed in an underground location, the Old Town Haunt Halloween Attraction offers claustrophobic thrills galore – and gore – in a dank atmosphere that truly impresses. This is one of the best ways to enjoy Halloween in Los Angeles, so mark your calendars!
Location: 20 N. Raymond Avenue, Old Town Pasadena, CA 91103
Dates: October 5-6, 12-13, 18-21, 25-28, 30-31
We know you're out there, you prevaricators and procrastinators, wasting the precious days of October until Halloween Night rolls around, when suddenly you realize: This is it, the last chance to visit this year's Halloween Theme Park Attractions, Halloween Haunted Houses & Hayrides, Halloween Yard Haunts, Community Halloween Haunts, Halloween Haunts for Children, Halloween Parties [...]
Dates: September 30, October 1, 7-8, 14-16, 20-23, 26-31.
Location: 20 N. Raymond Avenue, Pasadena, CA 91103
Link out: Click here
Description: Pasadena's biggest and scariest – well, only – Halloween haunt returns for another frightful season full of monsters and mayhem. And you know what? Even if there were dozens of other haunts in the area, this [...]
It's the final weekend; time is running out! You have paused and prevaricated, allowing the October days to slip through your fingers, and now you are in a last-minute flurry, trying to see as much as you can before midnight of November 1 arrives, bringing Halloween to a conclusion. In this limited two-day window of Saturday and Sunday, what are the absolutely essentail Halloween haunts that you must see in 2010? Read on to find out…
Location: Central Park & One Colorado Courtyard in Old Town Pasadena, CA
Dates: October 30-31, starting at 1:00pm
Description: Old Town Pasadena offers a weekend of free haunted Halloween happenings for the entire family! Spooky activities include a pumpkin hunt, kids Halloween craft center, costumed characters, Halloween moon bounces, live ghoulish music, scary animal and bug show-and-tell, kid-friendly haunted house, store-to-store trick-or-treating and much more! Read more from the press release below the fold.
Location: 20 N. Raymond Avenue, Pasadena, CA 91103
Dates: October 1-3, 8-10, 15-17, 21-24, 27-31.
Description: Pasadena's biggest and scariest haunt opens its catacombs for another October season. Although only a single-maze, it is one of the best Halloween attractions in Los Angeles – a definite must-see.
Queen Mary Dark Harbor, Old Town Haunt, and The Empty Grave open this weekend.
At long last, October has arrived, and this means even more Halloween horror haunting Los Angeles and the surrounding environs. The weekend sees three major attractions: The Queen Mary Dark Harbor in Long Beach, The Old Town Haunt in Pasadena, and The Empty Grave in Anaheim; plus two family friendly events, Snoopy's Costume Party at Knott's Berry Farm and Brick or Treat party Nights at Legoland.
Old Town Haunt in Pasadena opens this weekend, on Friday October 1. In this age of Halloween theme park attractions and Halloween haunted houses with multiple mazes, it has become somewhat rare to encounter an attraction that features but a single walk-through labyrinth. Fortunately, the underground catacombs provide a memorable scare experience, well worth a [...]
Title: Old Town Haunt 2010
Location: 20 N. Raymond Avenue, Pasadena, CA 91103
Link out: Click here
Description: Pasadena's biggest and scariest haunt opens its catacombs for another October season. Although only a single-maze, it is one of the best Halloween attractions in Los Angeles – a definite must-see.
Dates are October 1-3, 8-10, 15-17, 21-24, 27-31.
Hours are 7-10pm [...]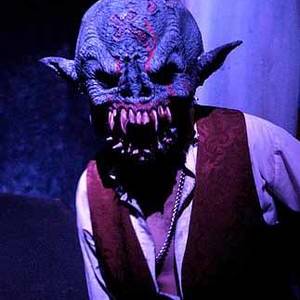 You have idled away the Halloween season; your best of intentions have dwindled away to almost nothing, and now you find yourself on October 31 with too little time and too many haunts. You cannot get to all of them on Halloween night, and unfortunately most are not taking advantage of the weekend to stay open an extra day on November 1. What are you going to do? How can you prioritize? Well, it is your great good fortunate that you are reading this article, because we are about to enumerate 2009's must-see Halloween events in Los Angeles and the surrounding areas. These are the best Halloween haunts, rides, and mazes – the ones you will regret missing if you do not make the extra effort necessary to enter their murky portals before the witching hour sounds tonight. Be bold and brave, dear traveller, and as you ride through the night, urged on by ghosts and goblins, do not despair of reaching your final destination before dawn, for remember: "the Dead travel fast…."