Archive for L.A. Haunted Hayride
You are browsing the archives of L.A. Haunted Hayride.
NOTE: Updated below.
Cue the scary organ music, for it is time to announce Hollywood Gothique's annual Halloween Haunt Awards, recognizing the finest achievements for 2012. Which haunts had the spookiest  ghosts, the scariest monsters, the most disgusting gore, the most atmospheric architecture, or the most amazing special effects? Read on to find out – if [...]
It's time for another Hayride into Hell. Can one of the best Halloween events in Los Angeles keep its promise to create its "most intense horror experience yet"?
You all know the drill – right, kiddies? We're talking about the Los Angeles Haunted Hayride: we all know it's gonna be great, so just buy your tickets [...]
The Queen Mary, Haunted Hayride, Reign of Terror, and other must-see Halloween haunts open this weekend.
This is it! The Gates of Hell have opened! The tombs have been torn asunder! The graveyards have disgorged their ghosts, and the bats have flown the belfry! In short, all of the major Halloween events in Los Angeles have [...]
Wondering what will be the best Halloween haunted house events in Los Angeles this year? Which should you eagerly anticipate like Dr. Markway swooning over Hill House in 1963's THE HAUNTING? Which should you avoid like the Lutz family considering a return to Amityville? Hollywood Gothique acts as your real estate agent, taking you on a virtual tour of all the hot haunted properties that should be on your 2012 must-see list.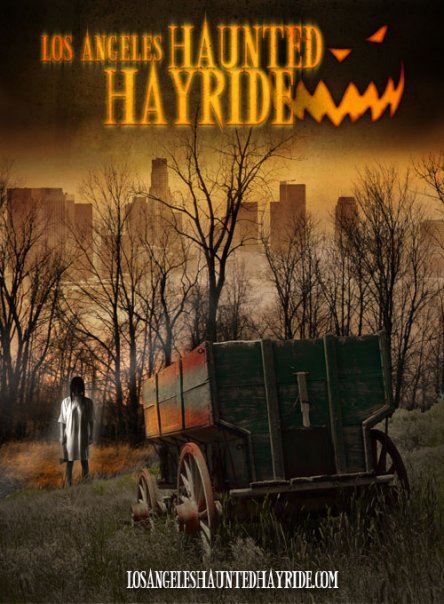 The Los Angeles Haunted Hayride is currently offering discounts on pre-sale tickets through their website. You can save $3 per ticket, until these tickets sell out. This Halloween's presentation, Los Angeles Haunted Hayride: The Congregation, runs on October 5-6, 11-14, 18-21, 24-28, 31. Regular ticket prices are $28 for General Admission, $37 for a "Double [...]
The Los Angeles Haunted Hayride returns for another Halloween's worth of outdoor screams. Ten Thirty One Productions promises us even more horror than before, with an expanded hayride featuring new horror scenes and a 360-degree scare experience guaranteed to get you wet. (Panchos will be provided in case you forget to bring your rain coat.) [...]
Drum roll, please – or should that be a funeral dirge? Whatever soundtrack you choose to play in your mind or on your computer while reading this, it is time to bestow our annual accolades for the Best Los Angeles Halloween Events. As with last year, I will dispense with rigid categories in favor of [...]
We know you're out there, you prevaricators and procrastinators, wasting the precious days of October until Halloween Night rolls around, when suddenly you realize: This is it, the last chance to visit this year's Halloween Theme Park Attractions, Halloween Haunted Houses & Hayrides, Halloween Yard Haunts, Community Halloween Haunts, Halloween Haunts for Children, Halloween Parties [...]
If  have taken the ride or read the reviews, you know that in a mere two years the L.A. Haunted Hayride has driven to the front of the pack, becoming one of the premiere Halloween events in Los Angeles. To laud the haunt with praises once again would be to risk indulging in a predictable [...]
Dates: October 7-9, 13-16, 20-23, 27-31
Location: Griffith Park, Old Zoo, 4730 Crystal Springs Avenue Los Angeles, CA 90027
Box Office Hours: 7pm to 10:30pm on Thursdays, Sundays, and Monday October31; 7pm to midnight on Fridays and Saturdays (the ride runs for one hour after the box office closes)
Link out: Click here
Description: The Los Angeles Haunted Hayride [...]
Location: Griffith Park Old Zoo – 4730 Crystal Springs Avenue, Los Angeles, CA 90027
Date: October 8-10, 14-17, 21-24, 28-31
Hours: 5:00pm to 10:30pm on Sundays and weeknights; open till midnight on Fridays and Saturdays
We certainly hope you followed our advice and got a jump on the Halloween season by attending the Knotts Berry Halloween Haunt, Halloween Horror Nights at Universal Studios Hollywood, and the Queen Mary Dark Harbor. If you failed to heed our sound suggestion, it may already be too late to catch up, because even more [...]
The Los Angeles Haunted Hayride, which made its debut last Halloween, is back for 2010 – starting tonight at Griffith Park. The Haunted Hayride was our favorite discovery of 2009, and we are eager to revisit the attraction at its new location (last Halloween it was set in the King Gillette Ranch in Calabasas). Unfortunately, [...]