Archive for House of Restless Spirits
You are browsing the archives of House of Restless Spirits.
Looking for last-minute, inexpensive ways to enjoy Halloween in Los Angeles? Look no further, as Hollywood Gothique presents its must-see list of Halloween Yard Haunts.
By now, you have probably maxed out your credit card purchasing VIP tickets to the Knotts Berry Farm Halloween Haunt and/or Halloween Horror Nights at Universal Studios Hollywood, not to mention [...]
Dates & Hours: October 27 & 31, 7-11pm
Location: 1008 Euclid Street, Santa Monica, CA
Link out: Click here
Description: Santa Monica's premiere yard haunt – one of the best Halloween events in Los Angeles, amateur or professional – returns for another season of subtle, spooky shivers. For Halloween 2012, the House of Restless Spirits will materialize on [...]
Drum roll, please – or should that be a funeral dirge? Whatever soundtrack you choose to play in your mind or on your computer while reading this, it is time to bestow our annual accolades for the Best Los Angeles Halloween Events. As with last year, I will dispense with rigid categories in favor of [...]
The final installment of our 2011 Halloween Yard Haunt Odyssey takes us to a pair of old favorites, both restless and eternal, and also ventures into previously uncharted realms of mishaps and darkness. The wide spectrum of approaches – from shivers to shocks, from simple to sophisticated – is a remarkable testament to the impressive variety [...]
We know you're out there, you prevaricators and procrastinators, wasting the precious days of October until Halloween Night rolls around, when suddenly you realize: This is it, the last chance to visit this year's Halloween Theme Park Attractions, Halloween Haunted Houses & Hayrides, Halloween Yard Haunts, Community Halloween Haunts, Halloween Haunts for Children, Halloween Parties [...]
Location: 1008 Euclid Street, Santa Monica, CA
Dates: October 29, 7-11pm; October 30-31, 7-10pm
Description: The most supremely spook Halloween yard haunt in Los Angeles opens its doors for three nights this Halloween season, offering a crypt-full of astounding special effects that rival those of any professional haunted attraction.
Part 3 of Hollywood Gothique's yard haunt tour includes visits to CrestaFallen Cemetery in West Los Angeles, the Eternal Rest Cemetery in Venice, and the House of Restless Spirits in Santa Monica. The combination of atmosphere and just plain fear makes for a fascinating variety of Halloween horror.
To my surprise, looking over last year's posts, I find no 2009 edition of Hollywood Gothique's annual Halloween Haunt Awards. Although memories fails me here, I believe this decision was based upon the fact that any post-Halloween round-up of events and attractions in Los Angeles would have been somewhat redundant with my "Must See Halloween [...]
It's the final weekend; time is running out! You have paused and prevaricated, allowing the October days to slip through your fingers, and now you are in a last-minute flurry, trying to see as much as you can before midnight of November 1 arrives, bringing Halloween to a conclusion. In this limited two-day window of Saturday and Sunday, what are the absolutely essentail Halloween haunts that you must see in 2010? Read on to find out…
Location: 1008 Euclid Street Santa Monica, CA
Dates: October 30-31, 7-11pm
House of Restless Spirits is consistently one of the best yard haunts in Los Angeles, so make the effort to make it out.
Hollywood Gothique's 2009 Halloween Haunt Odyssey began with a trek westward, first to the Forest of Mirrors in Woodland Hills and then to the Reign of Terror in Thousand Oaks. After savoring the sinister spooks at both attractions – in as leisurely a manner possible while knowing that darkness and distance in abundance separated us [...]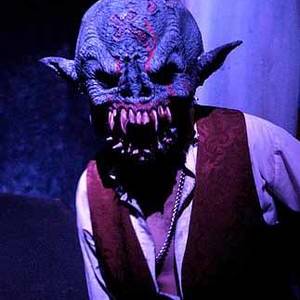 You have idled away the Halloween season; your best of intentions have dwindled away to almost nothing, and now you find yourself on October 31 with too little time and too many haunts. You cannot get to all of them on Halloween night, and unfortunately most are not taking advantage of the weekend to stay open an extra day on November 1. What are you going to do? How can you prioritize? Well, it is your great good fortunate that you are reading this article, because we are about to enumerate 2009's must-see Halloween events in Los Angeles and the surrounding areas. These are the best Halloween haunts, rides, and mazes – the ones you will regret missing if you do not make the extra effort necessary to enter their murky portals before the witching hour sounds tonight. Be bold and brave, dear traveller, and as you ride through the night, urged on by ghosts and goblins, do not despair of reaching your final destination before dawn, for remember: "the Dead travel fast…."
Great news! The supremely spooky House of Restless Spirits – one of the best ways to enjoy Halloween in Los Angeles – will be back for 2009. The Santa Monica yard haunt will be open on Friday, October 30 and Saturday, October 31, from 7:00pm until 11:00pm on both nights. If you have never been, you [...]