Archive for Hollywood
You are browsing the archives of Hollywood.
Theatrical Release Date: November 30
Location: Mann Chinese 6, 6801 Hollywood Boulevard,
Hollywood, CA 90028
Official website: Click here
Description: Magnet Release, the genre division of Magnolia Pictures, gives a limited platform theatrical release to this fourth entry in the Universal Soldier franchise, including an exclusive Los Angeles engagement at the Mann Chinese 6 Theatre in Hollywood. The [...]
For the record, we want to note that Hell Break L.A. (which we reviewed fairly favorably here) was apparently plagued by last-minute, unannounced closures – at least according to comments on their Facebook page, which is filled with frustrated rants from customers who pre-purchased tickets and arrived at the location, only to find it closed [...]
It is not for nothing that the Theatre 68 Haunted House made it onto our list of 2012 Halloween Recommendations: The Best Haunted House Events in Los Angeles. Although Theatre 68's interactive, theatrical approach to Halloween has been to some extent usurped by Delusion: Presented by Haunted Play, the 68 Cent Crew continue to delivery [...]
L.A.'s newest Halloween attraction could be a real contender.
New Halloween haunts are rolling into Los Angeles like a landslide of Jack O'Lanterns: first Paranoia Haunted Attraction, then Blumhouse of Horrors, and now Hell Break L.A. The latter had its media-preview night on Thursday, October 11, and although it suffered from a surfeit of opening night [...]
Dates: October 11-31. Update: closed October 15-17, 22-23.
Location: 5601 Santa Monica Boulevard, Hollywood, CA 90038
Phone: 1-800-966-4355
Link out: Click here
Description: Here's a new Halloween event in Los Angeles: a post-apocalyptic prison where the inmates are "dying to get out." Staged in the abandoned Sears building, Hell Break L.A. promises a "high-scare, high-startle" experience that is [...]
Location: Theatre 68, 5419 Sunset Boulevard, Los Angeles 90027
Dates: October 12-13 (preview nights), 19-31
Tickets: $14. There is a one-dollar discount for bringing a canned good for the homeless.
Link out: Click here
Description: Great news for fans of Halloween in Los Angeles: The 68 Cent Crew are resurrecting their Theatre 68 Haunted House for its seventh year [...]
Date: October 27, noon-midnight
Location: Hollywood Forever, Cemtery, 6000 Santa Monica Boulevard in Hollywood
Description: The 13th annual Dia de Los Muertos returns to Hollywood Forever Cemetery, with featured musical artist OZOMATLI. Guests are invited to join in festivities that honor and celebrate the memories of all the beloved souls on the grounds of the historic Hollywood [...]
Date: October 31 at 8pm
Location: Arclight Cinemas Hollywood, 6360 Sunset Boulevard, Los Angeles, CA 90028
Link out: Click here
Description: The Arclight Cinemas presents a Halloween night screening of prodcuer-director Robert Aldrich's 1962 classic, starring Bette David and Joan Crawford. The film tells the story of Jane Hudson, an aging child star caring for her sister Blanche, [...]
Date: October 29 at 8pm
Location: Arclight Cinemas Hollywood, 6360 Sunset Boulevard, Los Angeles, CA 90028
Link out: Click here
Description: The Arclight Cinemas Hollywood offers a Halloween-season screening of this creepy comedy – starring Michael Keaton as the undead "bio-exorcist" – just in time for Halloween. This early Tim Burton film is wild and weird, with [...]
Location: Announced when you register
Description: Out of the Box Events presents their 6th annual Haunted Hollywood Scavenger Hunts – a unique ways to enjoy Halloween in Los Angeles. Participants team up to uncover the haunting secrets of Hollywood, in such locations as the Roosevelt Hotel, the Knickerbocker Hotel, many theaters and other secret locations revealed [...]
As part of their Kirk Douglas festival, the American Cinematheque screens Walt Disney Pictures' 1954 classic, based on the novel by Jules Verne. Douglas plays Ned, a whaler drafted to harpoon a sea beast that has been sinking warships – but the "monster" turns out to be the Nautilus, a submarine created and commanded by Captain Nemo (James Mason).
Walt Disney Pictures continues its annual tradition of screening Tim Burton's stop-motion Christmas classic at El Capitan Theatre for Halloween. This time, El Capitan proclaims that THE NIGHTMARE BEFORE CHRISTMAS will be presented in 3-D: the excellent 3-D conversion will be enhanced with live, in-theatre effects such as fog and snow.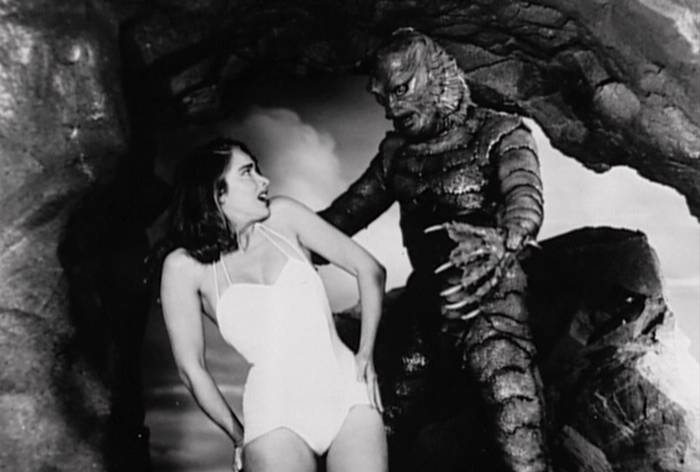 The American Cinematheque presents a digital 3-D screening of the 1954 monster movie – the last of the classic movie monsters from Universal Studios Hollywood. Location: The Aero Theatre, 1328 Montana Avenue Santa Monica. Date: 2012-Halloween Night at 7:30pm