Archive for Haunt with No Name
You are browsing the archives of Haunt with No Name.
Part 3 of Hollywood Gothique's 2012 Halloween Haunt Odyssey returns to a land we visit every October: Woodland Hills, with stops in Tarzana and Encino along the way. Since we have reviewed most of these yard haunts before, we will not delve deeply into details here; instead we will note what new tricks and treats [...]
One of the great agonies every October is that  many amateur Halloween events operate only on the last day of the month, making it truly impossible to get to all of them. A few open a day or two earlier, but often are not running at full-scale until Halloween Night; attempts to visit them beforehand [...]
Looking for last-minute, inexpensive ways to enjoy Halloween in Los Angeles? Look no further, as Hollywood Gothique presents its must-see list of Halloween Yard Haunts.
By now, you have probably maxed out your credit card purchasing VIP tickets to the Knotts Berry Farm Halloween Haunt and/or Halloween Horror Nights at Universal Studios Hollywood, not to mention [...]
Location: 19351 Hatteras Street Tarzana, CA
Description: Tarzana's as-yet unnamed yard haunt returns for its 21st year. The Haunt with No Name Yet is spooky in a wonderfully understated way, with a pumpkin-patch-full of hand-carved Jack-O'Lanterns, wonderful ornaments and lighting, and a handful of creepy effects. Kids will not be too terrified, but they will enjoy [...]
We know you're out there, you prevaricators and procrastinators, wasting the precious days of October until Halloween Night rolls around, when suddenly you realize: This is it, the last chance to visit this year's Halloween Theme Park Attractions, Halloween Haunted Houses & Hayrides, Halloween Yard Haunts, Community Halloween Haunts, Halloween Haunts for Children, Halloween Parties [...]
The previous installment of our annual Halloween Yard Haunt Odyssey took us through two terrifying mazes in Burbank, The Backwoods Maze and Rotten Apple 907's Space Oddessey. Moving on to Tarzana and Woodland Hills, we encounter a trio of Halloween Yard Haunts that are less interested in shocks and surprise than in spooky shivers.
The House [...]
Location: 19351 Hatteras Street, Tarzana, CA
Link out: Click here
Description: In operation since the 1990s, this impressively atmospheric amateur yard haunt celebrates its 20th year in Los Angeles. The official dates are October 29-31, 7-10pm, but there is a possibility that it will open for a preview night on October 28, giving you a chance to [...]
Part 2 of Hollywood Gothique's 2010 Halloween Haunt Odyssey offers a trio of atmospheric yard haunts in Woodland Hills and Tarzana: Fallen Angel Cemetery, the Haunt with No Name, and the House at Haunted Hill.
Planning your Halloween Weekend? Wondering What to do with these final days of October? Looking for something new and different? With the opening of the Theatre 68 Haunted House this past Friday, all of Los Angeles's professional Halloween haunts are in full swing, leaving the Halloween yard haunts to dominate the concluding weekend of October, along with various horror movie screenings. Here is a rundown of Halloween events and attractions opening around Los Angeles this weekend.
On Saturday, October 2, Yours Truly appeared on KFWB's "Home Wizards," hosted by Cindy Dole. The home improvement show was doing a Halloween theme for its first hour, offering advice to homeowners thinking of decorating their domiciles for the delight of neighborhood trick-or-treaters. Dole asked me about the different levels of home haunting, dealing with [...]
Location: 19351 Hatteras Street, Tarzana, CA
Dates: October 29-31
This enjoyably spooky Halloween yard hauntreturns for another year of seasonal fun. It's more atmospheric than shocking, and not too terrifying for kids: it features an impressive array of carved pumpkins, skeletal mannequins and graveyard decorations; plus several nice effects, like a floating candle and an ethereal ghost glowing inside a tomb.
The Haunt with No Name Yet will be returning for its eighteenth year this October. Located in Tarzana, this atmospheric Halloween yard haunt will be open for three nights: October 30 (7-10pm), October 31 (dusk to 11:00pm), and November 1 (7-10pm).
The Haunt with No Name Yet is not as loaded with mechanical effects as some [...]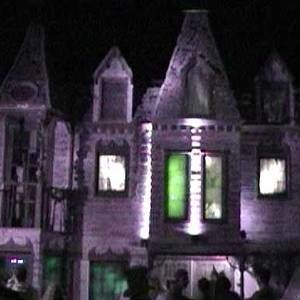 NOTE: Hollywood Gothique's annual Halloween Haunt Odyssey is a sort of unofficial tour of yard haunts in Los Angeles, many of which are open only on October 31st. Each year, we hit a few old favorites and search for some new discoveries.
Yesterday, in Part 1, we laid to rest our impression of the local yard haunts that [...]