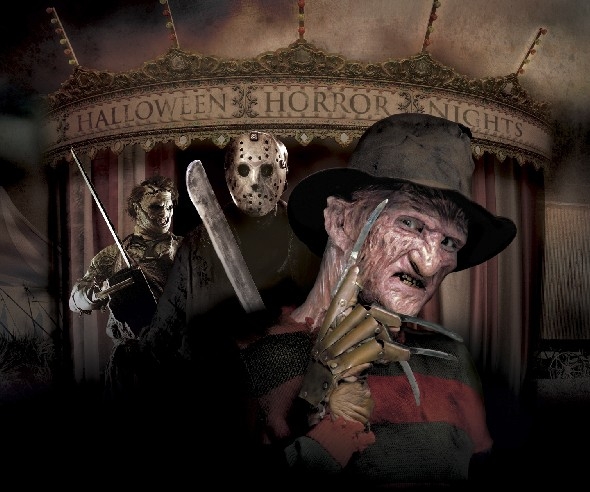 Universal Studios, Hollywood
100 Universal City Plaza
Univeral City, CA 91608
Phone: 1-800-UNIVERSAL
Websites: Universal Studios – Halloween Horror Nights
GET INFO ON THE CURRENT INCARNATION OF HALLOWEEN HORROR NIGHTS HERE.
Is Halloween Horror Nights at Universa Studios Hollywood your favorite way to enjoy Halloween in Los Angeles? Then vote for it in our poll.
Can't decide which Halloween Haunt in Los Angeles to visit this October? Click here for an answer to the question: What are L.A.'s Best Theme Park Halloween Haunts?
2008 HALLOWEEN HORORR NIGHTS DATES: October 3-4, 10-11, 17-19, 24-26, 30-31 and November 1.
2008 HALLOWEEN HORORR NIGHTS TIMES: Doors open nightly at 7:00pm. Closing hours vary.
2008 HALLOWEEN HORORR NIGHTS TICKETS: Advance discounts are available online until September 21. Online ticket sales include a 99-cent processing fee.
October 3-4: $34.99
October 10, 19, 26, 30: $39.99
October 11, 17, 25, November 1: $44.99
October 18, 25, 31: $49.99
There are Front-of-the-Line passes that range from $79.99 to 119.99, depending on the night you go.
NEW OFFERS FOR HALLOWEEN HORROR NIGHTS 2008: Learning a lesson from the Six Flags Magic Mountain Fright Fest, this year Universal Studios is offering "Halloween Horror Nights Day and Scream" tickets, which allow you to enjoy the usual Universal Studios tour during the day and then stick around for the Horror Nights after dark. The full combined price for these tickets is $121; the advanced discount is $69.99.
UPDATE FO RHALLOWEEN HORORR NIGHTS 2008: Like last year, the haunt emphasizes the presence of slasher icons Freddy Kruger, Jason Voorhees, and Leatherface, but Kruger's haunt will be transformed: last year, it suggested an asylum (a vestige of 2006's Asylum maze, in the same location); this year the haunt will seek to duplicate the Elm Street residence. Also, the back lot tram tour will be expanded to include walk-through mazes. Completely new for this year will be a "Scare Zone" based on the hit horror film THE STRANGERS.
OTHER HALLOWEEN HORORR NIGHTS INFORMATION: The official website advises that this event may be too intense for younger children. No costumes are allowed.
HALLOWEEN HORORR NIGHTS HISTORY: After a disappointing debut in the 1980s, Universal Studios Halloween Horror presentation was resurrected to good effect in the 1990s, including numerous elaborate mazes, featuring brand names like Rob Zombie and Clive Barker. After the turn of the millennium, Universal's Hollywood studios neglected to present a Halloween attraction for a number of years (although Universal Studios in Florida did have a 2005 haunt). 2006 saw Universal Studios Hollywood back in business for Halloween.
HALLOWEEN HORORR NIGHTS FEATURES: Halloween Horror Nights at Universal Studios Hollywood features the most elaborate mazes, props, special effects, and makeup of any Halloween haunt in Los Angeles. Like Knott's Scary Farm, Universal's Halloween Horror Nights features a mix of mazes, shows, and scare zones specially crafted for the season. All of the regular rides and attractions remain open for business (such as Revenge of the Mummy, Jurassic Park in the Dark, and Terminator 2 in 3D, Waterworld, but not Back to the Future, which closed in September 2007). Univeral promises to transform the standard attractions into "bloodbaths, as if scenes from hororr films…exploded to life."
HALLOWEEN HORROR NIGHTS HAUNTS: 2008 offers four mazes; Jason, Freddy, and Leatherface will haunt one each, designed to capture the tone of their individual films. There is also an expanded version of the Backlot Terror Tram Tour.
EXPANDED: Terror Tram – Take a tour, get off the bus, and wander past the Bates Motel and the Psycho House, shudder through the "War of the Worlds" airplane crash sight, cringe from the clutches of wandering zombies. For 2008, this attraction is supposed to be greatly expanded, including walk-through mazes.
UPGRADED: A Nightmare on Elm Street - Freddy Kruger's haunt will be refurbished for 2008! No longer an asylum, it will recreate the Elm Street house from the films.
Friday the 13th – Jason Voorhees hacks your body.
Texas Chainsaw Massacre – Leatherface chainsaws your bones
House of Horrors – after a temporary switch for Halloween 2006, the old Van Helsing attraction has become a permanent, year-round walk-through maze loaded with Universal's classic movie monsters; expect even more vampires, cannibals, and psychos for the Halloween season.
HALLOWEEN HORORR NIGHTS SHOWS:
Chucky's Insult Emporium – like a faded former star, the Don Rickles of horror is reduced to a second-rate lounge act
Magic Show – stunt magicians Kevin James and Brian Bushwood seek to amaze you with fire-eating, hammered eyeballs, and the ever reliable sawing someone in half gag.
HALLOWEEN HORORR NIGHTS SCARE ZONES: For 2008, Universal adds a zone based on the horror hit THE STRANGERS, in addition to zones leftover from previous years.
New York City – the big apple turns blood red thanks to a hazardous waste spill
London – ghosts of the Victorian era haunt this street, including Jack the Ripper and Mr Hyde
Deadwood – the old west becomes a literal ghost town
Midieval Village – spooky executioners and other ghouls lurk in the fog
Front Entrace: Killer Klowns and other random ghouls get your screaming as soon as you enter.
Bay of Pigs (not really, that just what we call it): Mutant pigs with chainsaws patrol the lower park area near the Leatherface maze.
NEW: The Strangers – unwanted guests arrive, and they just won't leave!
OTHER HALLOWEEN HORORR NIGHTS INFORMATION: No costumes or masks allowed. For more details about 2007 you can sign up at the official website to receive updates.
HALLOWEEN HORORR NIGHTS PHOTOGRAPHS: Find preview images for 2007 in the Halloween Haunts section of our Photo Gallery.
HALLOWEEN HORORR NIGHTS VIDEOS 2008: