Haunted Theme Park Attraction
Click here to read about Universal Studios 2010 event.
Universal  Studios, Hollywood
100 Universal City Plaza
Univeral City, CA 91608
Phone: 1-800-UNIVERSAL
Websites: Universal Studios – Halloween Horror Nights
Is Halloween Horror Nights at Universa Studios Hollywood your favorite Halloween event in Los Angeles? Then vote for it in our poll.
Can't decide which Halloween Haunt in Los Angeles to visit this October? Click here for an answer to the question: What are L.A.'s Best Theme Park Halloween Haunts?
2009 HALLOWEEN HORROR NIGHTS DATES: October 2-3, 9-11, 16-18, 23-25, 29-31 and November 1.
2009 HALLOWEEN HORROR NIGHTS TIMES: Doors open nightly at 7:00pm. Park closes at 1:00am.
2009 HALLOWEEN HORROR NIGHTS TICKETS: Advance tickets are available on the website at a discount price (plus a a 99-cent processing fee) before September 20; prices vary by date of admission and go up after September 20. There are options for:
General Admission: $56 at the gate; advance price ranges from $36 on October 2-3 to $56 dollars on select dates later in the month.
Front of the Line Pass - ranges from $89 to $119
Day-Night Combo (enjoy the park by day, stay for the scares at night) – $74
Frequent Fear offers admission for ten nights (not good for October 17 & 24) for $75.
RIP Experience offers an exclusive guided tour on top of the Front of the Line Privileges; price ranges from $149 to $169.
UPDATE FOR HALLOWEEN HORROR NIGHTS  2009: Abandoning the '80s horror icons Freddy, Jason, and Leatherface (who were on display in 2007 and 2008), Universal Studios turns to SAW for its 2009 theme. Their official website promises "all new" horrifying mazes, backlot Terror Tram tour, twisted shows, and "bone-chilling" scare zones.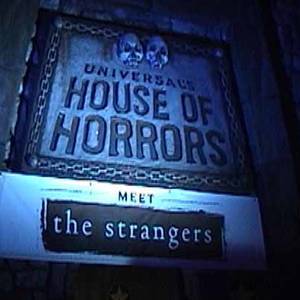 HALLOWEEN HORROR NIGHTS FEATURES: Halloween Horror Nights at Universal Studios Hollywood features the most elaborate mazes, props, special effects, and makeup of any Halloween haunt in Los Angeles. Like Knott's Scary Farm, Universal's Halloween Horror Nights features a mix of mazes, shows, and scare zones specially crafted for the season. All of the regular rides and attractions remain open for business (such as Revenge of the Mummy, Jurassic Park in the Dark, and Terminator 2 in 3D, Waterworld, but not Back to the Future, which closed in September 2007). Univeral promises to transform the standard attractions into "bloodbaths, as if scenes from hororr films…exploded to life."
2009 HALLOWEEN HORROR NIGHTS HAUNTED MAZES: There will be four new mazes this year:
Saw: Game Over

, based on the torture porn film franchise that has overstayed its welcome.

Halloween: The Life and Crimes of Michael Myers

, which at least has the benefit of being being oriented to the season.

My Bloody Valentine – Be Mine 4 Ever

, a "multi-sensory" (whatever that means) experience based on the recent 3-D remake. Um, guys – Valentine's Day and Halloween are two completely different holidays.

Chucky's Fun House

, an attempt to milk the wise-cracking killer doll one more time.
2009 HALLOWEEN HORROR NIGHTS OTHER HAUNTED ATTRACTIONS: All the usual rides and attractions will also be open, many of them with a Halloween flavor added for the season:
Universal Studios promises a "a more intense, interactive horror experience" with this year's new

Terror Tram: Live or Die

, which is described as a "walk-through attraction on the historic Universal back lot." The length of the walking portion of the Terror Tram tour has increased each Halloween since 2006, so I'm optimistic that this will represent a genuine expansion of the attraction, not just hype.

The Simpsons

motion-simulator;

Revenge of the Mummy

;

Terminator 3-D

, and

Jurassic Park in the Dark.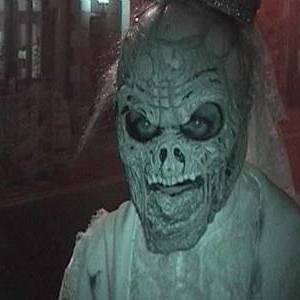 2009 HALLOWEEN HORROR NIGHTS SCARE ZONES: With its diverse outdoor locations, Universal Studios is adept at providing some great scare zones, each with its own personality. 2008 featured six scare zones (including New York City, London, Deadwood, Midieval Village). No word on which if any of these will be back in operation for 2009, but there will be four new ones:
Shaun of the Dead

, which sounds like a lot of fun. Hopefully, this will recreate Shaun's daily walk from home to work, when his familiar surroundings have been zombified.

Welcome to Hell

, which will depict the Seven Deadly Sins being punished by stilt-walking demons using pyrotechnics for flashy effect.

Meat Market

, which will feature butchers carving up carcasses for consumption amidst the rolling fog.

Freakz

, in which the cast of carnival sideshow have developed a taste for human flesh. (Couldn't we just send them over to the Meat Market?)
2009 HALLOWEEN HORROR NIGHTS SHOWS: There will be a live act based on THE ROCKY HORROR PICTURE SHOW, plus a new production of "Bill and Ted's Excellent Adventure," which has been a popular perennial for many years.
OTHER HALLOWEEN HORROR NIGHTS INFORMATION: The official website advises that this event is not recommended for children under 13. No costumes or masks are allowed.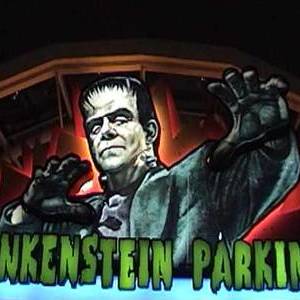 HALLOWEEN HORROR NIGHTS HISTORY: After a disappointing debut in the 1980s, Universal Studios Halloween Horror presentation was resurrected to good effect in the 1990s, including numerous elaborate mazes, featuring brand names like Rob Zombie and Clive Barker. After the turn of the millennium, Universal's Hollywood studios neglected to present a Halloween attraction for a number of years (although Universal Studios in Florida did have a 2005 haunt). 2006 saw Universal Studios Hollywood back in business for Halloween.
HALLOWEEN HORROR NIGHTS PHOTOGRAPHS: Find preview images for 2007 in the Halloween Haunts section of our Photo Gallery.
HALLOWEEN HORROR NIGHTS VIDEOS:
Our old page for HHN 2008 is here.