NOTE: For archival purposes, preserved here is our page for the 2010 incarnation of Universal Studios' Halloween Horror Nights. For information on the current version, click here.
Universal Studios, Hollywood
100 Universal City Plaza
Univeral City, CA 91608
Phone: 1-800-UNIVERSAL
Universal Studios Website click here
HHN Website: click here
This is one of the best Halloween theme park attractions in Los Angeles, one that every fan should check out.
Is Halloween Horror Nights at Universa Studios Hollywood your favorite Halloween event in Los Angeles? Then vote for it in our poll.
Can't decide which Halloween Haunt in Los Angeles to visit this October? Click here for an answer to the question: What are L.A.'s Best Theme Park Halloween Haunts?
2010 HALLOWEEN HORROR NIGHTS DATES: September 24-25, October 1-2, 8-9, 15-17, 21-24, 28-31. This is a separate event that takes place every evening, after the Universal Studios theme park closes for regular business.
2010 HALLOWEEN HORROR NIGHTS TIMES: Doors open nightly at 7:00pm. Park closes at 1:00am.
2010 HALLOWEEN HORROR NIGHTS TICKETS:
General Admission: $59 at the gate
Front of the Line Pass - ranges from $69 to $89
Day-Night Combo (enjoy the park by day, stay for the scares at night) – $79
RIP Experience offers an exclusive guided tour on top of the Front of the Line Privileges: $79. Call 818-622-5140 to reserve.
DISCOUNTS:
Advance tickets are available on the website at a reduced price (plus a a 99-cent processing fee); discounts vary by date of admission: from $34 on September 24-25 to $54 on October 16, 22 & 29 (no discounts on October 23 & 30).
The Killer Deal Nights Pass offers admission for nine nights ( September 24-25, October 1-2, 8, 17, 21 & 24) for only $59.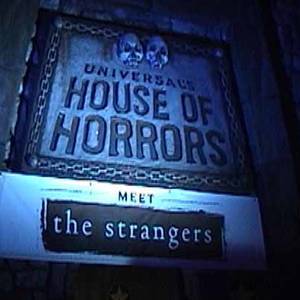 HALLOWEEN HORROR NIGHTS FEATURES: Halloween Horror Nights at Universal Studios Hollywood features the most elaborate mazes, props, special effects, and makeup of any Halloween haunt in Los Angeles. Like Knott's Scary Farm, Universal's Halloween Horror Nights features a mix of mazes, shows, and scare zones specially crafted for the season.
UPDATE FOR HALLOWEEN HORROR NIGHTS 2010: This year is greatly revamped, with only one franchise maze retained from 2009. That does not mean you will be seeing completely new mazes; Freddy and Jason (who haunted the park in 2007 and 2008) make a triumphant return.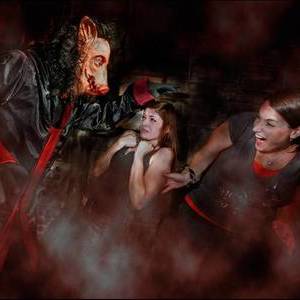 2010 HALLOWEEN HORROR NIGHTS MAZES: Abandoning 2009's mazes based on HALLOWEEN and MY BLOODY VALENTINE, the 2010 event retains only the SAW franchise and resurrects Freddy Kruger and Jason Voorhees (who were on display in 2007 and 2008). 2010 also adds a fourth maze, based on HOUSE OF 1000 CORPSES.
2010 HALLOWEEN HORROR NIGHTS SCARE ZONES: Most of 2009's scare zones (e.g., Shaun of the Dead) have been replaced, some with zones themed to nearby mazes.
La Llarona

(based on the Mexican legend of the "Crying Woman")

Nightmarez

(with Freddy Krueger)

Klownz

(in the New York City area)

Lunaticz

(in the English street scene)

Freakz

(renegade sideshow performers)

Pigz

(on your way to the Saw maze).
OTHER 2010 HALLOWEEN HORROR NIGHTS ATTRACTIONS: The Terror Tram is back, and so is the popular Bill & Ted Halloween show.
The Terror Tram

features the usual tour of the back lot, including a walk past the Psycho House. This year, the killer doll Chucky has hijacked the ride; also expect to see La Llorona.

Bill & Ted's Excellent Halloween

Adventure

is back, offering pop culture spoofs and a chance to sit down and take a break from walking around the park.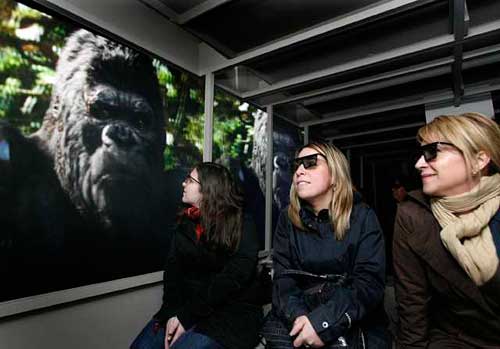 2010 HALLOWEEN HORROR NIGHTS RIDES: All of the regular rides and attractions remain open for business, some especially decked out for Halloween. Univeral promises to transform the standard attractions into "bloodbaths, as if scenes from hororr films…exploded to life."
King Kong 360 3-D: The Skull Island Express

Revenge of the Mummy – The Ride

Jurassic Park – In the Dark

The Simpsons Ride
OTHER HALLOWEEN HORROR NIGHTS INFORMATION: The official website advises that this event is not recommended for children under 13. No costumes or masks are allowed.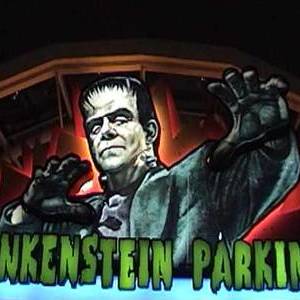 HALLOWEEN HORROR NIGHTS HISTORY: After a disappointing debut in the 1980s, Universal Studios Halloween Horror presentation was resurrected to good effect in the 1990s, including numerous elaborate mazes, featuring brand names like Rob Zombie and Clive Barker. After the turn of the millennium, Universal's Hollywood studios neglected to present a Halloween attraction for a number of years (although Universal Studios in Florida did have a 2005 haunt). 2006 saw Universal Studios Hollywood back in business for Halloween.
HALLOWEEN HORROR NIGHTS PHOTOGRAPHS: Find preview images for 2007 in the Halloween Haunts section of our Photo Gallery.
Check our our archive HHN articles.