Haunted Theme Park Attraction
Universal Studios, Hollywood
100 Universal City Plaza
Univeral City, CA 91608
Phone: 1-800-UNIVERSAL
Universal Studios Website click here
HHN Website: click here
This is one of the most spectacular ways to enjoy Halloween in Los Angeles, one that every fright fan should check out. Click here for a comparison between Halloween Horror Nights and other Halloween theme park attractions.
Read our review of the 2011 haunt here.
Is Halloween Horror Nights at Universa Studios Hollywood your favorite Halloween event in Los Angeles? Then vote for it in our poll.
2012 HALLOWEEN HORROR NIGHTS DATES: September 21-22, 28-29, October 5-7, 12-14, 18-21, 25-31. This is a separate event that takes place every evening, after the Universal Studios theme park closes for regular business.
2012 HALLOWEEN HORROR NIGHTS TIMES: Doors open nightly at 7:00pm. Park closes at 2:00am on Fridays and Saturdays, at 1:00am on Sundays and weeknights. (NOTE: The Terror Tram line closes at 9:00pm on Sundays and Thursdays.)
2012 HALLOWEEN HORROR NIGHTS TICKETS:
General Admission: $41-66 in advance (depending on night of attendance) or $66

at the gate
Front of the Line Pass - ranges from$79 to $109; no advance discount
Day-Night Combo (enjoy the park by day, stay for the scares at night) – $99 to $109; no advance discount
VIP Experience: Details to be announced
DISCOUNTS:
Advance tickets are available on the website at a reduced price (plus a a 99-cent processing fee); discounts vary by date of admission. Killer Deal Nights offers discounts of up to $25 in advance; supplies are limited.
Group Sales for 6 or more. Call 818-622-1150
UPDATES: Check our our latest Halloween Horror Nights news and reviews.
HALLOWEEN HORROR NIGHTS FEATURES: Halloween Horror Nights at Universal Studios Hollywood features the most elaborate mazes, props, special effects, and makeup of any Halloween haunt in Los Angeles. Like Knott's Scary Farm, Universal's Halloween Horror Nights features a mix of mazes, shows, and scare zones specially crafted for the season.
2012 HALLOWEEN HORROR NIGHTS MAZES: This year, Universal Studios Hollywood presents new mazes based on:
Alice Cooper Goes to Hell (in 3D)
Silent Hill
La Llarona – previously seen in 2011 – makes a return engagement.
Texas Chainsaw Massacre Maze: Also returning is a revamped version of this previously scene maze, this time titled "The Saw is the Law" and based on the 1974 original rather than the remakes.
Universal Monsters Remix: The theme for 2012's House of Horrors (a year-round spooky walk-through that gets revamped for Halloween) combines classic horror characters (Dracula, Frankenstein, the Phantom of the Opera) with contemporary electronica music.
2012 HALLOWEEN HORROR NIGHTS TERROR TRAM: This year, the Terror Tram tour of the back lot has been invaded by THE WALKING DEAD! Can you and your friends survive alongside Rick Grimes and his small band of survivors, fighting tooth and nail against overwhelming hordes of zombies? Find out!
2012 HALLOWEEN HORROR NIGHTS SCARE ZONES: To Be Announced. Expect the "walkers" from THE WALKING DEAD to show up somewhere.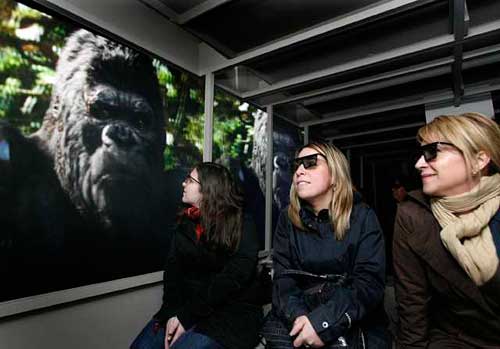 2012 HALLOWEEN HORROR NIGHTS RIDES: The regular rides and attractions remain open for business, some especially decked out for Halloween. Univeral promises to transform the standard attractions into "bloodbaths, as if scenes from hororr films…exploded to life."
King Kong 360 3-D: The Skull Island Express

Revenge of the Mummy – The Ride

Jurassic Park – In the Dark

The Simpsons Ride
OTHER HALLOWEEN HORROR NIGHTS INFORMATION: The official website advises that this event is not recommended for children under 13. No costumes or masks are allowed.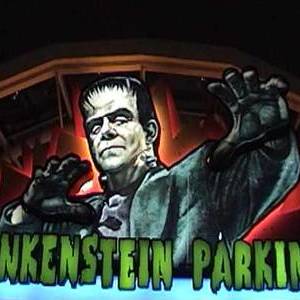 HALLOWEEN HORROR NIGHTS HISTORY: After a disappointing debut in the 1980s, Universal Studios Halloween Horror presentation was resurrected to good effect in the 1990s, including numerous elaborate mazes, featuring brand names like Rob Zombie and Clive Barker. After the turn of the millennium, Universal's Hollywood studios neglected to present a Halloween attraction for a number of years (although Universal Studios in Florida did have a 2005 haunt). 2006 saw Universal Studios Hollywood back in business for Halloween. 2011 saw Halloween Horror Nights expand its number of mazes from four to six, upping the scream quotient considerably.
HOLLYWOOD GOTHIQUE'S HHN YOUTUBE PLAYLIST: Click here