Shipwreck Halloween Attraction & All-Night Parties
Click here to read about the Queen Mary's 2010 Halloween event, Dark Harbor.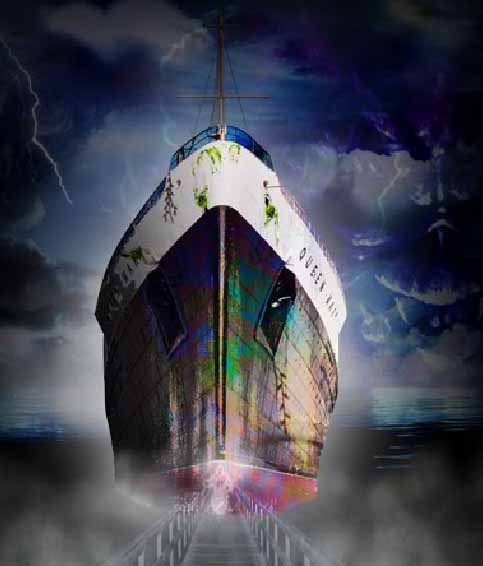 THE HAUNTED QUEEN MARY
1126 Queens Highway
Long Beach, CA 90802
Queen Mary Phone: 562-435-3511
Shipwreck Information: 1-800-437-2934
Email: info@shipwreckhalloween.com
Websites: www.queenmaryshipwreck.com
www.shipwreckhalloween.com
www.seasidehaunt.com
2009 SHIPWRECK HALLOWEEN NEWS: As of September 7, the Queen Mary Shipwreck website was reduced to a splash page featuring a spooky image of the boat; meanwhile, the website for the old Seaside Haunt in Ventura morphed into an advertisement for the "Haunted Queen Mary." (Seaside Haunt was one of several Halloween attractions, including Spooky House, owned or co-owned by the late Bob Koritzke; the Spooky House and Seaside Haunte names were sold to the Queen Mary for their Halloween event.). By September 16, the Shipwreck url was redirecting to a page on the official Queen Mary website, with details for Halloween 2009, while a brand new website (www.shipwreckhalloween.com) was dedicated to the new version of the haunt, renamed "Shipwreck Halloween at the Haunted Queen Mary." The Seaside Haunt URL now leads to this new website.
2009 SHIPWRECK HALLOWEEN DATES: October 2-3, 9-10, 16-17, 23-24, 30-31, and November 1
2009 SHIPRECK HALLOWEEN HOURS: The Haunted Queen Mary will be haunting from 7:00pm until midnight (later on some nights)
2009 SHIPWRECK HALLOWEEN TICKETS: Tickets are now on sale at the Queen Mary Ticket Office (open 10:00am through 5:30pm) and through WantTickets.com.
$29 General Admission
$19 for preview nights (the first weekend, October 2 and 3)
$40 VIP Fast Pass (cut in line privileges)
$69 Month pass
$99 VIP Month Pass (cut in line privileges)
2009 SHIPWRECK HALLOWEEN BARGAINS: Sorry, the "Discounts" page from the old Queen Mary TerrorFest website has disappeared. Fortunately, you can still get in for $10 off on "preview nights" (October 2 & 3).
2009 SHIPWRECK HALLOWEEN PARKING: In the past, the rate was $15 cash when you enter the lot for the Haunted Queen Mary Shipwreck. (We miss the old days, when you paid while exiting — which allowed you the opportunity to get off scott free if you could get one of the restaurants or bars on board ship to validate you.)
2009 SHIPWRECK OVERNIGHT PACKAGE: The Haunted Queen Mary is not only a tourist attraction; it is also a hotel. You can take advantage of this special package so that you and your significant other can spend the night on board, attend the Halloween event, enjoy breakfast, and see some of the regular shows.
Shipwreck Overnight Package: one-night stay, 2 General Admission tickets, 2 Promenade Cafe Breakfast vouchers. $225
Upgrade to VIP Fast pass tickets for an extra $20.
2009 SHIPWRECK HALLOWEEN MAZES: The Haunted Queen Mary claims their mazes are the longest of any Halloween attraction in Los Angeles, and it's easy to believe them, considering the space they have to work with. Note: some mazes are on the ship; some are on the land around the ship. In the past, the land-bound ones have been constructed mostly of painted flats; therefore, they are not as impressive as those at Halloween Horror Nights or the Knott's Scary Farm. The ones onboard the Queen Mary provide a truly unique experience, thanks to their dark, lengthy corridors – the perfect place for spooks to roam. 2009 offers five new mazes:
Vampire Village: This haunted village dates back long ago, with twists and turns and fog below. Located to the north of the Shipwrecked Queen, some villagers have been known to scream. Alas, have no fear, for there are friendly Transylvanians near.
The Graveyard: The Un-dead have awoke from a long blissful sleep, to chase those who's footsteps will not give them peace. Tread lightly if you dare, and are so bold, for from out of the fog may pop-out something cold!
Isolation ward There is no escaping this straight jacket of a maze, patients may enter and exit in a haze. Handle them with care with good bedside manner, or be forced to answer to the dreaded Nurse Slasher!
Blackbeard's Revenge (Pirate Maze): Angered Pirate Spirits haunt the sea, from years of trying to overthrow the Queen Mary. This maze will delight the scurviest of mates, with a dozen or so Pirates that will give chase. AAAAAARRRRGGG!
Paranoia's House of Horror: Take a trip down memory lane, where Classic Haunted Characters are ready to bring the pain! Thru the dark depths of the ships bowels you will be, restrooms are nearby if you need to pee. So run, hide, scream all you want, nothing will stop these Masters of Haunt!
OTHER SHIPWRECK HALLOWEEN FEATURES: The Haunted Queen Mary itself is a big feature, with its long spooky corridors, many of them allegedly haunted. When you get tired of being scared, you can walk over to the hotel section of the ship for dinner and/or a drink at the on-board pubs and restaurants. (Be careful: many of them close early, and we have at times noticed a reluctant on the part of the doormen to allow entry by crazy Halloween fanatics who are not registered at the hotel, so act nice.)
SHIPWRECK HALLOWEEN DRAWBACKS: You have to drive to the Haunted Queen Mary in Long Beach. The Dance Party music has nothing to do with Halloween. Although the settings aboard ship are excellent, on off-nights the staging of the scares does not always take full advantage of this. There are no shows or rides (like you get at Knotts Scary Farm, Universal's Halloween Horror Nights, and Six Flag's Magic Mountain Fright Fest). The Queen Mary Shipwreck offers no scare zones, per se, although there are some free roaming-ghouls who will attack you in the park on the way to the ship.
SHIPWRECK HALLOWEEN COSTUMES: Costumes are allowed on board the Haunted Queen Mary on Halloween Night only! Weaponry (guns, knives, swords, etc) will be taken away, so do not bring them.
SHIPWRECK HALLOWEEN DRESS CODE: The Haunted Queen Mary enforces a strict dress code. Admission will be refused to anyone wearing any of the following: , headbands, bandanas, spiked wristbands, belts, and many other items are prohibited, including "Old English style writing on hats, shirts, or pants." (???)
SHIPWRECK HALLOWEEN HISTORY: Back when the Spruce Goose was still nestled in the dome next to the ship, the Queen Mary tried a Halloween Party night. Approaching the old-fashioned, faux fishing village through the artificial fog was an eerie experience, but the party itself was mostly just disco dance nonsense, along with a mild-mannered guided tour below decks. Having learned from that long-ago mistake, in 1995 Shipwreck productions tried its hand at turning the venerable sailing vessel-cum-hotel-and-tourist-attraction into a Knott's Scary Farm-type Halloween event, called the Halloween TerrorFest. Since the bowels of the ship are spooky in their own right, and since there are one or two allegedly authentic ghost stories associated with the vessel, the setting was perfect, and it's been going strong every since. In 2009, new management took over the haunt, rebranding it as "Shipwreck Halloween located at the Haunted Queen Mary."
HAUNTED QUEEN MARY VIDEO: Take a look at what the 2009 Shipwreck Halloween event had to offer.
QUEEN MARY TERRORFEST 2008: Curious what you missed last year? It's all listed here in our archived page for the 2008 Queen Mary Shipwreck.
Check out our archives for the Haunted Queen Mary Terror Fest.