This is an archived page for the 2009 edition of Knotts Scary Farm. Check out our page for the current incarnation of the Knotts Berry Farm Halloween Haunt.
KNOTT'S BERRY FARM
8039 Beach Boulevard
Buena Park, CA 90620
Haunt line: 714-220-500o
Websites: Knott's Berry Farm - Halloween Haunt
Can't decide how to spend Halloween in Los Angeles? Click here for an answer to the question: What are L.A.'s Best Theme Park Halloween  Haunts?
2009 HALLOWEEN HAUNT DATES: Not officially available. If they stay true to past tradition, we are betting that Knott's Scary Farm will run from Thursday, September 24 through Sunday, November 1.
2009 HALLOWEEN HAUNT HOURS: Typically, Knott's Scary Farm is open 7:00pm to 1:00am on weeknights, until 2:00am on Fridays and Saturdays (Knott's Berry Farm closes its regular theme park at 5:30pm each evening and re-opens for the Halloween Haunt at 7:00.)
2009 HALLOWEEN HAUNT PARKING: Last year, Knott's Scary Farm charged $15.00 for "Preferred Parking."
HALLOWEEN HAUNT TICKETS: Knott's Scary Farm requires a special ticket for admission; your regular Knott's Berry Farm admission will not get you into the Halloween Haunt. Tickets are available at the Knott's Berry Farm Guest Relations box office (most days do not sell out, so you can purchase them on the night of the event). Tickets may be purchased online (you can save shipping costs on pre-sales by using the Print@Home function on the Knott's website) or by phone (call the Ticketmaster Haunt LInes at 213-365-3535 or 714- 703-2555). Service charges apply to all phone orders. Last year's Prices were: $52.99 on the night of the event; $47.99 or $49.99 pre-sale depending on the date.
HALLOWEEN HAUNT BARGAINS: Each year, coupons available at Burger King will save you up to $21 (depending on how early in the season you go). Usually, these coupons become available after Labor Day. Group discounts for 24 or more are available at 714-220-5163.
HALLOWEEN HAUNT ADD-ON PACKAGES: Knott's Scary Farm also offers several "Add-On" packages that can expand your stay. Here are typical deals from last year:
V.I.M. (Very Important Monster) Tours

: You can get haunt admission, preferred seating at select shows, a our escort for the entire evening, and back door access to the attractions, but the price is not cheap: $1,500 for up to six guests. Reserve one week in advance by calling 714-220-5298.

V.I.P AND PRE-SCARE DINNER SPECIALS

: These give you a chance to eat before the park opens for the nightly haunt. $12.95 gets you a pre-scare buffet in the Ghost Camp or Black Lagoon picnic areas; plus, you are allowed into the park through a separate entrance a few minutes before it opens for other guests. $15.95 gets you a more elaborate V.I.P. Monster Buffet, with prime rib, shrimp and salads in addition to the other items; you also get a souvenir beverage cup. Due to seating limitaions, this offer is available only to ticket holders with advance dinner reservations. NOTE: Once you're inside the park, your dining selections are mostly limited to fast food and snacks.

POST-SCARE BREAKEFAST SPECIALS

: A midnight breakfast buffet at Mrs. Knott's Chicken Dinner Restaurant – from Midnight to 3:00am – for $9.995 plux tax and gratuity. This is a walk-in offer; no reservations required.

THREE COMPLETE HOTEL PACKAGES

: Gruesome Getawa6, Haunted Dreams, or Bare Bones – ranging from $429 to $159. Call 714-995-1111 or 866-752-2444 for details.
HALLOWEEN HAUNT FEATURES: All the usual Knott's Berry Farm rides and attractions are open for business, but the park is redecorated for its Halloween Haunt in grand ghoulish style: 160 acres with 12 mazes, 6 shows, and 4 scare zones. The scares start the minute you walk in the gate, with 1,000 wandering ghouls lunging at you out of the fog.
HALLOWEEN HAUNT DRAWBACKS: The crowds. Inevitably, you have to wait in long lines for each attraction at Knott's Scary Farm, unless you arrive as soon as the gates open or attend on an off-night. For some reason, the park's appeal skews young, so expect to find yourself surrounded by teeny-boppers. Also, the level of performance among the monsters sometimes seems to drop off near the end of the season, as if the actors are growing weary of their roles.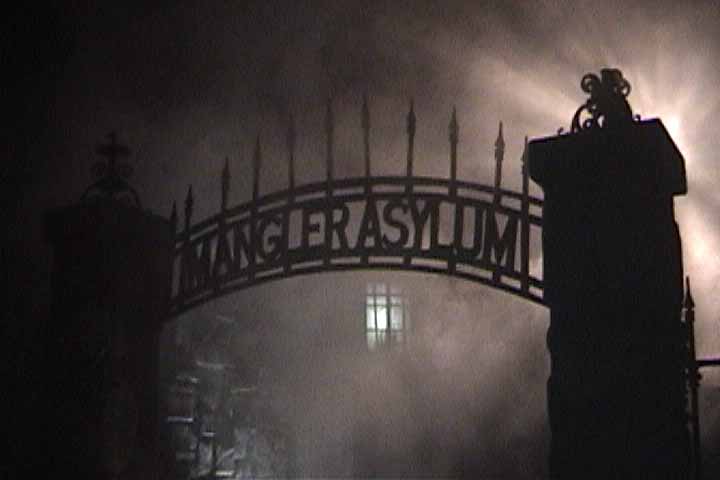 2009 HALLOWEEN HAUNT MAZES: There will be 13 mazes at Knott's Scary Farm this year, including two 3-D mazes. Check back for updates as they become available.
NEW FOR 2009: LOCKDOWN – THE ASYLUM

(set in GhostRider). This location has been known as the Asylum for several years. Knott's promises this is more than an updated version with the word "Lockdown" on front of the name; 2009 is supposed to offer a brand new, very different experience, described as a "high security penitentiary for the insane."

NEW FOR 2009: TERROR OF LONDON

(set in the Mystery Lodge, which used to house 13 Axe Murder Manor). Taking a cue from Universal Studios Hollywood's London Town scare zone, Knott's Scary Farm offers this excursion into Victorian horror, featuring Jack the Ripper's muderous rampages and Dr. Jekyll's twisted experiments.

NEW FOR 2009: DIAS DE LOS MUERTOS

in 3-D. Journey deep into Mexican folkore to face the Chupacabra; hear the pitiful ghostly screams of La Llorona (the Wheeping Woman) echo from the decrepit crypt.

NEW FOR 2009: UNCLE BOBO'S BIG TOP OF THE BIZAARE

– in 3D. A new clown nightmare.

Quarantine

(set in the Fiesta plaza that previously house The Grudge 2): one of the shortest, fastest, and most intense maze experiences at Knott's Scary Farm

The Slaughterhouse

(set in Main Gate Area that previously housed Red Beard's Revenge): the name says it all – a generic Chainsaw Massacre kind of deal

Alien Annihilation

( set in the 3D Laser Tag area) – fun but goofy monsters from the stars

The Labyrinth

(set in the Balloon Race that previously housed Lore of the Vampire) – fewer shocks, more thrilling atmosphere

Cornstalkers

(set in the Stage Coach Trail that previously housed Dark Realm):  really cool outdoor corn maze loaded with scarecrows.

Club Blood

(set in GhostRider 2): hip nightclub for the undead

The Doll Factory

(set in Wilderness Dance Hall): creepy and weird – a must-see.

Black Widow's Cavern

(in the Mine Ride): giant spiders invade the caves – just pray they don't pluck you out of the train as you ride past!

Pyromaniax

(set in the Timbermountain Log Ride). The premise is that a fire breaks out on the mountain due to an accident at the local moonshine factory. Toxic fumes turn the locals, including the fire-fighters, into mutants.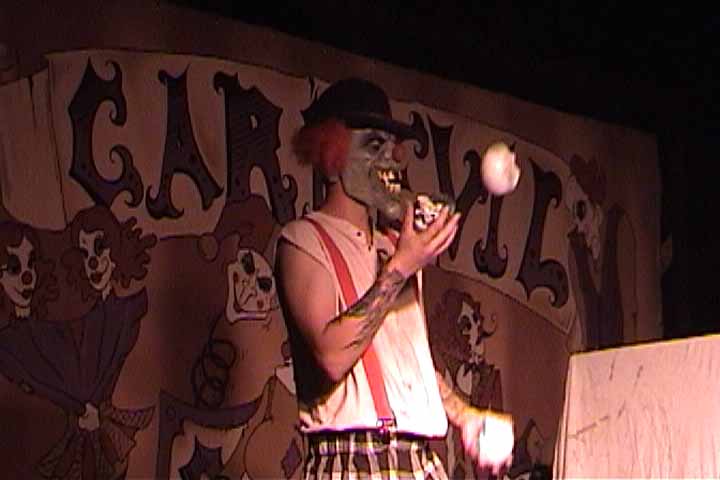 HALLOWEEN HAUNT SHOWS: There is more to Knott's Scary Farm than just scares. There is also a variety of humorous entertainment on various stages, which is especially helpful if you want to take the weight off your feet in between talking through all those mazes. Check back for updated information as it becomes available.
HALLOWEEN HAUNT SCARE ZONES: These are areas of  Knott's Scary Farm haunted by free-roaming ghouls so that you get the scares even before you stand in line for the haunted mazes. These tend to be consisten from year to year, since they are based around established sections of the theme park. In 2008, all of of the scare zones were well-loved holdovers from previous season, and we expect they will be back for 2009:
Ghost Town

: The original Knott's scare zone, the appropriate setting, an old, abandoned Western street populated by the dead

The Gauntlet

: The tranquil Camp Spooky is possessed by evil after dark.

CarnEVIL

: The living dead roam, even in the brightly lit Boardwalk area.
CAMP SNOOPY: For children too young and timid to enjoy Knott's Berry Farm's Halloween Haunt at night, there is usually a kid-friendly day-time alternative that runs on the weekends. The event offers a pirate treasure hunt with trick-or-treating, "Captain Jakc's Haunted Hideaway," and other themed entertainment for the 3 to 11-year old set.
ALSO OF NOTE: Knott's Scary Farm is not recommended for children under 13. No re-entries allowed. No costumes.
HALLOWEEN HAUNT HISTORY: It all started back on October 31, 1973. Since Knott's Berry Farm is more or less modeled on a real ghost town (Calico in California), it made sense to decorate the ghost town section of the park up for Halloween, along with a few dozen monster lurking in the fog. Knott's Scary Farm's first walk-through maze was added the next year. Since then, the Halloween Haunt has grown into a huge annual event, with hundreds of actors in makeup and numerous mazes featuring everything from 3D lighting and to elaborate mechanical effects.
HALLOWEEN HAUNT VIDEOS: Check out our video tours of Knott's Scary Farm's haunted mazes.

HALLOWEEN HAUNTS PAST: Our archived page for the 2008 haunt is available here.