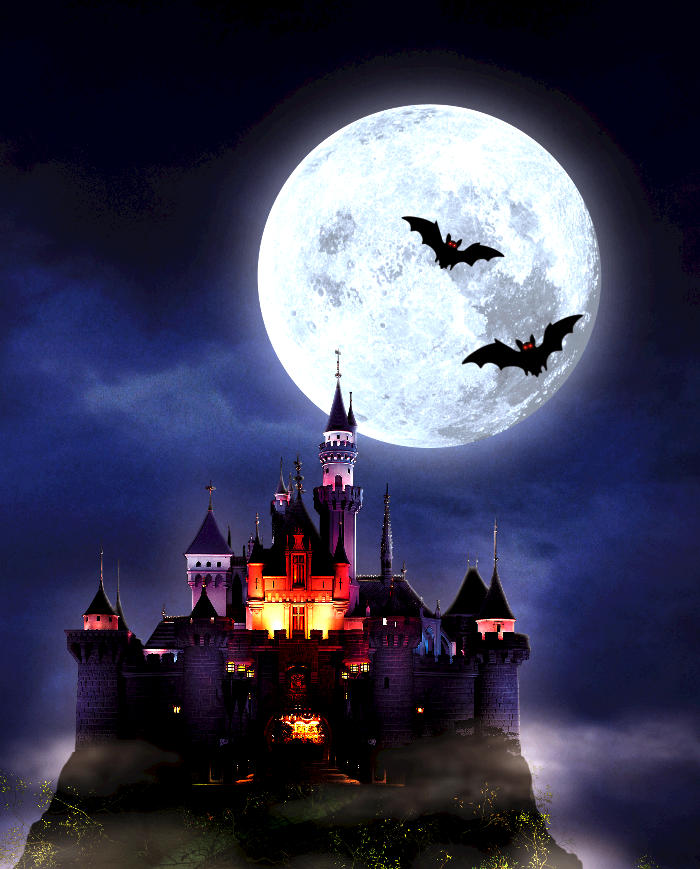 Disneyland Resort
1313 S. Disneyland Drive
Anaheim, CA 92802
Recorded Info: (714) 781-4565
EMail: Contact Us Form
Web Page: Halloween Time
It has become an annual tradition during the October season, with the Enchanted Kingdom transforming itself into a haunted theme park (family-friendly, of course), with the traditional Disney characters attired in costumes to show the spirit of the season. All the usual Disneyland Resort rides and attractions are open, but with an extra special Halloween spin.
2012 HALLOWEEN TIME DATES: September 14 to October 31
2012 HALLOWEEN TIME HOURS: Halloween Time takes place during regular park hours. Times can vary so check with the Disneyland Resort website calendar.
Disneyland: 10:00am to 8:00pm on weekdays, 9:00am to midnight on Friday, Saturdays & Sunday
Disneyland California Adventure: 10:00am to 6:00pm on weekdays, 10:00am to 8:00pm on Friday, Saturday & Sunday
2012 MICKEY'S HALLOWEEN PARTY DATES: September 28; October, 2, 5, 9, 12, 15, 19, 23, 26, 29 & 31
MICKEY'S HALLOWEEN PARTY HOURS: Mondays, Tuesdays & Halloween Night 6-11pm; Fridays 7pm-midnight. (Separate admission required.)
2012 HALLOWEEN TIME TICKETS: Regular admission allows you into the Disneyland Resorts two theme parks, where you can enjoy the extra Halloween festivities at no extra cost (except for Mickey's Halloween Party). Purchase tickets online and print at home to save money off of the "day of event" price.
1-Day 1-Park Tickets: $81 for children 3-9 and $87 for ages 10+
1-Day Park Hopper Ticket: $119 for ages 3-9, $125 for ages 10+
2012 MICKEY'S HALLOWEEN PARTY TICKETS: these tix allow entrance up to three hours before the event's regular start time.
September 28, October 2, 5, 9, 15, 23: $54 in advance; $46 Advanced Annual Pass Holder price; $64 on event date
October 12, , 19, 26: $64
October 29 and 31: $69
2012 HALLOWEEN TIME DISCOUNTS: There are various hotel packages and annual passport tickets, plus deals for multi-day and/or multi-park passes, which include admission to both Disneyland Park and Disney's California Adventure Park (where you can "enjoy" the Twilight Zone Tower of Terror). There are also special discounts for local residents.
HALLOWEEN TIME PARKING: $12 for automobiles; $17 for over sized vehicles, motor homes, and tractors without trailers; $22 for buses and tractors with trailers.
2012 HALLOWEEN TIME ATTRACTIONS: Disneyland offers mildly spooky thrills for families with young children. Your favorite Disney characters are on display in seasonal costumes, and surprises lurk around every corner. The usual rides and attractions are open, some of them modified for the season:
Haunted Mansion Holiday sees Disneyland's famous Haunted Mansion, open year-round, get an extra-special face lift for the October season, taking on the appearance of Halloween Town from A NIGHTMARE BEFORE CHRISTMAS.

Space Mountain Ghost Galaxy

launches you tothe outer reaches of the creepy cosmos.

Twilight Zone Tower of Terror

offers ghostly encounters during a terrifying free-fall. With a sculpted bats guarding the entry gates, there's no telling if you will be able to find a way out.
MICKEY'S HALLOWEEN PARTY INFORMATION: On select nights in October, Disneyland Resort offers this private costume party at the Disneyland Park, where little ghosts and goblins can join their favorite Disney characters for Halloween-style fun. Besides have access to all the Halloween-themed events (such as Space Mountain Ghost Galaxy and Haunted Mansion Holiday), you and your children can enjoy almost all usual rides, go trick-or-treating, collect candy, enjoy live music, and play games. Guests, including adults, are encouraged to wear costumes, but they must conform to Disney's costume code: child friendly, non-violent, eyes visible, no sharpt objects or props that could be mistaken for real weapons. The Trick-or-Treat Party event requires a separate ticket. No charge for children under 2. You may get more information and purchase online at the Mickey's Trick-or-Treat Party page, or call 714-781-4400.
HALLOWEEN TIME TRICKS & TREATS: Disneyland offers special Halloween merrchandise for sale, including collectible pins, costumes based on your favorite Disney and Pixar characters, pumpkin-head mouse ears, candy baskets, and more. Seasonal food is available in the form of Gingerbrad Pumpkin Cooies, Cream Topped Pumpkin Muffins, and Pumpkin King Mousse Tarts.
HALLOWEEN TIME DRAWBACKS: This is basically a Halloween opportunity for parents with children who don't want to be too frightened. Although fun, Disneyland's Haunted Mansion is not really scary; the Tower of Terror may be terrifying, but it is basically a thrill ride, not a traditional Halloween attraction. So it's not exactly what most enthusiasts expect from a Halloween attraction. Still, you can console yourself with a trip on the Pirates of the Caribbean.
Click here for our archive of Disneyland's Halloween Time.