Departed Los Angeles Halloween Events
Every Halloween season, while we drink deeply of the delightfully dreary ambiance that new haunts and old favorites have to offer, we also suffer a pang of wistful nostalgia as we cast our mournful eyes back through the hazy clouds of time and recall those attractions that have gone to the grave, leaving a vast gap in our annual enjoyment of all things macabre.
The following list enumerates those Los Angeles Halloween attractions that have shuffled off this mortal coil. Although they are gone, their legacy lives on in the hearts and minds of all those who visited them, and so we offer this tribute to the terrors they evoked and the shudders they sent down the spines of countless trick-or-treaters…
And lest despair deaden your soul, recall that, when it comes to Halloween, nothing ever truly dies. Haunts once thought dead forever, sometimes are resurrected or reincarnated in another guise. Who knows? Perhaps some of these will return sometime in the future, in some form or another.
ADENMOOR MANOR Yard Haunt
5929 Adenmoor Avenue
Lakewood, CA 90713
For two years, this home haunt featured a 1,000-foot backyard maze in Lakewood,  near Long Beach. Unfortunately, some of the proprietors moved out of state in 2011, sending this impressive sounding attraction to a premature grave before we had a chance to check it out personally.  From what we heard, guests entered in groups of 6 or less, passing through twists and turns that prevent them from seeing what lies in wait ahead – but whatever it is, the monsters outnumber the humans. There was no particular theme, but the haunt avoided the usual cliches: clowns, aliens, pirates, toxic waste mutants and overly familiar movie characters (ie. like Jason, Freddy, and Leatherface) were nowhere to be seen.
There was a dim suggestion that one of the remaining haunters, still living in California, would resurrect the haunt in 2012, but we have heard nothing further on the matter.
ALIEN INFESTATION Yard Haunt
2734 Annapolis Circle
San Bernadino, CA 92408
Website: www.alieninfestation.com
Although it was a a bit out of our usual jurisdiciton, we included this yard haunt in our listings because it was created by Ryan Carter, who contributes to one of our favorite professional Halloween haunted houses, the Old Town Haunt in Pasadena. The effects for Alien Infestation were created by Carter's special effects company, Hall of Shadows.
In 2009, Alien Infestation presented a scenario roughly akin to H.P Lovecraft's "The Colour Out of Space,"inviting you to tour the impact of a meteor strike on San Bernadino, which has adversely affected the local environment and creating mutant creatures of every description. According to the official website:
"The five minute walk-through takes guests through a variety of sets and mazes filled with elaborate props, mechanical effects, and good old fashioned human scares. Though blood and depictions of dismembered limbs are present, the gore is not excessive. There are no age restrictions on the event, but parents are cautioned against bringing children that are easily frightened by the dark, graphic images, or startling events. The scare factor can be reduced upon request, but this will not eliminate all of the frightening elements. Regretfully, wheelchair access is not available at this time."
HISTORY: Making its debut in 2009, Alien Infestation replaced Ryan Carter's previous yard haunt, Bayou of Blood.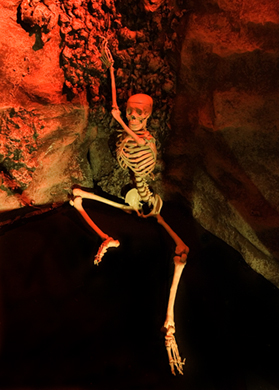 THE CATACOMBS Community Haunt
10800 Henderson Road
Ventura, California
Website: catacombs.sacredheartventura.org
Beginning in 2004, this amateur Halloween event, located in Youth Center behind a church in Ventura (northwest of Los Angeles), was designed to provide fun for the local kids, with a "a small but cool maze with a mild scare factor," while bringing in money and food donations. Although a community effort, presented by The Sacred Heart Church's Youth Ministry, some of the people involved had Hollywood FX exerience, having worked on such films as RESIDENT EVIL: EXTINCTION, THE RING, HELLBOY, etc. After "The Catacombs: A 3D Haunt" in 2009, this event went on hiatus in 2010.
CLUB HOUSE OF HORRORS Amateur Haunt
1501 Palos Verdes Drive North, Harbor City, California 90710.
This amateur haunt, presented in the club house of a mobile home park, offered eight rooms of fear in 2009 and 2010, then dropped off our radar. Reaper's Scare offers eight rooms filled with fear, but don't expect return appearances by Freddy and Jason, who have been replaced by evil clowns and chainsaw-wielding scarecrows on a riotous rampage.
CREEPY HOLLOW
3101 Overland Boulevard
West Los Angeles, CA 90034
Websites: www.myspace.com/creepyhollow_1
Once upon a time, Creepy Hollow claimed its haunted house, located in a small retail space, was the "hottest" way to spend Halloween in Los Angeles. After 2008, it shut down, promising to find a new location in 2009, but that promise never materialized.
CRESTFALLEN CEMETERY Yard Haunt
9348 Cresta Drive
Los Angeles, CA 90035
Phone: (310) 968-5080
Updates: click here
Description: After 13 years of haunting, this amateur yard haunt called it quits, giving one last performance in 2011. Crestfallen Cemetery (the arch over the gate actually misspelled the name to match the street name: "Crestafallen Cemetery") offered trick-or-treaters a brief walk through a creepy cemetery, with an enclosed ramp featuring lots of animation and some live characters. The steep stairs led through a front yard dense with tombstones and ghosts; the enclosed area featured a few spooky tableau appropriate for a neighborhood haunt. The tone was family-friendly – more Disney's Haunted Mansion than Knotts Scary Farm – with nothing too scary for youngsters.
DINER OF THE DEAD Halloween Haunt – 2010 Only
12500 Euclid Street, Garden Grove, CA

Apparently, this was a one-shot effort in 2010, overseen by one of the crews responsible for the well-regarded Sinister Pointe, which was on hiatus that year.  The City of Garden Grove resurrected the abandoned Black Angus restaurant for Halloween, transforming it into  "Diner of the Dead," a heart-pounding, horror-filled maze set inside the vacant, 10,000 square-foot restaurant at 12900 Euclid Street.
his professional haunt was intended for teenage to adult audiences. Admission ws $13 per person with photos available for an extra fee. Tickets were available at the door, or at the Garden Grove City Hall Recreation Counter, 11222 Acacia Parkway, starting Monday, October 4.
"Diner of the Dead" was a collaboration between Jeff Schiefelbein's Imagination Design Studios and Abracadaver Productions. Abracadaver's spooky sculptures have appeared in numerous films. Imagination Design is known for the Silent Hill Haunt at Sinister Pointe in Brea (listed on our Halloween Haunted Houses & Hayrides page).
Click here for articles on Diner of the Dead.
FEARPLEX Halloween Haunt
This Halloween event featured a pair of walk-through haunted house mazes at the Los Angeles County Fairgrounds. It has been replaced by Nightmare at Scareview Farms (listed on our Halloween Haunted Houses & Hayrides page). Click here to see our page for Fearplex.
FORBIDDEN HAUNT Halloween Attraction

4827 Sepulveda Boulevard
Sherman Oaks, CA 91403
Website: www.forbiddenhaunt.com
This haunt, which made its debut in 2010 with a show titled "Haunted Carnevil," moved to Oxnard in 2011, where it was renamed Fears Gate (which is listed on our Halloween Haunted Houses & Hayrides page). The old URL (listed above) will redirect you to the new website, where you can find information about dates, times and tickets. 2010 information is listed below for archival purposes. The new Fears Gate haunt appears to be reusing much of what was seen in the Forbidden Haunt.
Description: Making its debut for Halloween 2010, Forbidden Haunt trotted out the well worn chestnut of killer klownz but with an engaging twist: it is actually set inside a circus tent, lending the ambiance of a real carnival. Forbidden Haunt promised "Unspeakable Fear" too terrifying for children, but there were lights-on matinee shows for the kiddies. There was also a "Weak Freak" clause which insists that you will not receive a refund for chickening out. Entertainment included:
"Your Last Ride," a double wide hearse with motion-simulator to create the experience of traveling to your final destination.
Madeline Speak on October 29 & 30 at 9:00pm
ImpaktBand on October 15 at 8:00pm, October 23 at 4:00pm, October 29 & 30 at 8:00pm
Phantom Coaches Hearse Club on October 23 at 5:00pm
Proceeds benefited Disabled American Veterans, Simi Valley Chapter 55.
Click here for the Forbidden Haunt archive.
THE FRIGHT GALLERY Yard Haunt
This Burbank yard haunt and amateur musical show offered a unique way to spend Halloween in Los Angeles – watching an all-singing, all-dancing spoof, performed on stage in a front yard decorated with tombstones. Click here for our page dedicated to the haunt.
FRIGHTMARE Home Haunt
Reseda, CA 91335
NOTE: This Halloween haunted house was apparently a one-shot deal, when some ambitious haunters took advantage of a rare opportunity: being asked to house sit for a friend. With an empty house at their disposal, they turned it into an excellent walk-through haunted house.
FEATURES: This completely amateur effort was one of the best Los Angeles yard haunts in 2004. Not really a "Yard Haunt," it actually took you through a house with seven rooms of bone-chilling fear that promised to "scare the yell out of you," including a 3D maze. Unfortunately, since then the haunters have been unable to secure a suitable location. With no news of a revival, this goes down in Halloween haunt history as a memorable one-shot wonder.
ALSO OF NOTE: Although free, the haunt did take donations. In 2004, all proceed went to benefit APLA (AIDS Project Los Angeles). Read about our 2004 Halloween Haunted House Odessey (including a trip to Frightmare, Grimmstone, Hallowed Haunting Grounds, Witch's Castle, and other amateur haunts).

GHOST SHIP
2901 W. Coast Highway
Newport Beach, CA 92663
Website: www.ghostship.com (website down)
Note:  This Halloween haunt provoked disappointed reactions from Los Angeles Halloween fans when it made its debut in October 2011; though not as bad as some made out, Ghost Ship could not live up to the level of expectations raised by visitors anticipating another great event from the company behind the excellent Los Angeles Haunted Hayride.
Tickets: $59 in 2011
Archived Articles: click here
Description: Ten Thirty One Productions – creators of the Los Angeles Haunted Hayride, one of Hollywood Gothique's favorite Halloween events in Los Angeles – set sail on a new adventure, a ghostly cruise in Orange County. We're not talking about a mock-boat and make-believe sailing; this was the real thing: a 75-minute tour on the high seas that aimed to be anything but a pleasure cruise, with guests allowed to roam at their own pace from deck to deck, encountering horrors guaranteed to send shivers down the spines of all who dare face them.
THE GHOSTS OF HALLOWEEN Yard Haunt
Website: www.ghostsofhalloween.com
Located in Pomona, not far from this Los Angeles County Fairgrounds, this is Halloween yard haunt used to include a walk-through maze with a few professional-looking gags; after 2009, it scaled back to a decorated yard, then gave up the ghost entirely. Click name for more information.
THE GRIMMSTONE CEMETERY Yard Haunt
This Van Nuys yard haunt, formerly one of the best in Los Angeles, is no longer in operation. Halloween in Los Angeles will never be the same!
THE HALLOWED HAUNTING GROUNDS Yard Haunt
This Studio City yard haunt, now deceased, was the best amateur Halloween event in Los Angeles for over thirty years.
HALLOWEEN FAMILY FESTIVAL & 13 NIGHTS OF TERROR Community Haunt – 2010 Only
Lost Canyons Golf Club, 3301 Lost Canyons Drive, Simi Valley, CA 93063
Websites: 13 Nights of Terror & Family Halloween Festival
This haunted Halloween event opened its doors for one season only in 2010, offering a Halloween Family Festival, a Family Safety Fair, live music, and a Haunted House. Produced by Shipwreck Productions, which used to handle the Queen Mary Halloween Terrorfest, 13 Nights of Terror was a community-style event whose proceeds went to benefit the non-profit Gull Wings Children's Museum.
Click here for articles about 13 Nights of Terror.
THE HAUNTED CELLAR Halloween Attraction
In 2009, this Halloween attraction changed its name to "The Empty Grave" (listed on our Halloween Haunted Houses & Hayrides page).
THE HAUNTED JAIL Community Haunt
Altadena Sheriff's Station 780 East Altadena Drive, at Lake Avenue Altadena, California
Website: www.altadenasheriffs.blogspot.com/
The Altadena Sheriff's Station begain presenting a 3D haunt in1997, which was not recommended for children under five. In 2010, the haunt was cancelled, due to continued reconstruction work on the Altadena Jail, which finally reopened on September 24, 2011. Unfortunately, with the remodeling complete, the jail was once again capable of doing business as a real jail, and the annual Halloween event was permanently terminated.
THE HAUNTED VINEYARD Halloween Attraction
This great Halloween haunted house in Ontario, CA, benefitted from being situated in an authentic location (an old winery), not a temporary mock-up. is no longer in operation.
THE HAUNTING FACTORY Halloween Attraction
This one-shot wonder appeared in West Hollywood in 2009.
HAUNTS USA Halloween Attraction
Formerly located Northridge, CA, this ambitious Halloween event consisted of three walk-through mazes, including a "Nightmare Factory" haunted house. Click here to see our Haunts USA page.
HOLLYWOOD HELL HOUSE Halloween Attraction
385 La Cienaga Boulevard West Hollywood, CA 90048
Website: HollywoodHellHouse.Com
News & Reviews for Hollywood Hell House here.
After two years of haunting, this Halloween attraction went on hiatus in 2008, with a promise to return in 2009, which never materialized.
This was not your typical haunted house but rather a satirical play, based on a presentation designed to teach "young people that they can go to hell for abortion, adultery, homosexuality, drinking, and other things unless they repent and end the behavior." Keenan Roberts, who has been presenting the real Hell House since 1992, sells Hell House Outreach kits to other churches, including a 263-page manual – which was the basis for the West Hollywood version. It goes without that the West Hollywood presentation played the material for laughs.
After walking through the haunt you were invited to hang out for a dance party with DJ Davey Save, with "bands, dancing, and praising till midnight."
The original Hell House was the subject of an excellent documentary film, which is definitely worth checking out. After you have seen it, you will definitely be interested in attending the haunt in person.
HORROR VALLEY HIGH SCHOOL Community Haunt – 2011 Only
Golden Valley High School
27051 Robert C. Lee Parkway, Santa Clarita, CA 91350
Website: horrorvalleyhighschool.com
Updates: Click here
Much of the cast and crew of the Heritage Haunt at Heritage Junction which went on hiatus in 2011 due to bureaucratic red tape) set up a new Halloween haunt for 2011, sub-titled "Terrors in Time." As with the Heritage Haunt, this was a non-profit event, staffed by volunteers who wanted to share their macabre brand of entertainment with like-minded enthusiasts. The high school location turned out to be not as conducive to haunting as the old Newhall Ranch House in Heritage Junction; consequently, many of the cast and crew returned to Heritage Haunt in 2012.
THE INFECTED Yard Haunt
1401 N. Buena Vista, Burbank, CA 91505
Info: (818) 681-5605
Previously known as "Massacre Manor," this amateur Halloween haunt featured a walk-through back yard path that portrayed an urgent care medical facility is over-run by an infectious disease (shades of QUARANTINE). Admission was free but donations were accepted.
JACKSON MANOR Yard Haunt
After many fearful Halloween seasons, sometimes featuring a walk-through maze, this very nice yard Burbank yard haunt slipped quietly into the ether.
MOLAR MANOR Haunted Attraction
Formerly located in Canyon Country, this great Halloween haunted house – a sort of haunted museum of collectibles and props – went dormant in 2007, then gave some farewell shows early in 2010 before closing its doors for good. In 2012, the owner recycled many of the old props and settings in the third maze at the Paranoia Haunted Attraction in Santa Monica.
NIGHTMARE JUNCTION
2220 Chandler Blvd Burbank, CA
NOTE: This gruesomely good yard haunt was out of operation from 2007 through 2009, then resurrected briefly in 2010. It disappeared again in 2011, and remains closed for 2012.
ADMISSION & PARKING: FREE
FEATURES: This residential yard haunt and walk-through maze, situated on a sidestreet intersection in a quiet neighborhood, was made up to look like a torture chamber, complete with dismembered bodies strung up above the fence that surrounds the property, plus various torture racks and other menacing devices. The grounds are patrolled by a hooded executioner, who pulls a cord to drop the guillotine on a dummy victim. Enterting the main gate leads you into a short, temporary maze structure, with a couple of gory scenes inside. A local attraction, this extravagant amateur effort can be very busy on Halloween night, unless you arrive very early. Although gruesome, the all tone is somewhat over-the-top and tongue-in-cheek, so this is proabably okay for all except the very youngest kids.
THE PIRATE CAVE Yard Haunt
For a few seasons, this nifty nautically-themed yard haunt in Northridge offered a gret way for kids to enjoy Halloween in Los Angeles. Unfortunately, it went on hiatus in 2010, with no word on when it would return.
PIRATES OF EVERGREEN Yard Haunt
1730 North Evergreen Street
Burbank, California
After putting his pirate playground on hiatus for 2010, the owner of this yard haunt moved to Oregon. Before then, this nautical yard haunt and party took place on Halloween Night. The bulk of the display was up the night before, if you wanted to drive by and take a look, but the real fun flowed on October 31, when the yard was populated by pirates enjoying the festivities. The pirate-party grew so popular that it inspired neighbors to join in the Halloween fun, creating several other impressive displays nearby.
THE REALM OF TERROR Yard Haunt
23125 Eriel Ave. Torrance CA, 90505
Website: www.therealmofterror.com
Email: information@therealmofterror.com
The Realm of Terror yard haunt first opened its doors 2000, offering a walk-through mazes, which grew in size and complexity each year. Unfortunately, in 2007 time considerations forced a switch to a simpler haunt, minus the maze – which was again the case in 2008. 2009 saw no haunt at all, with a promise to return in 2010 – which never materialized. Proprietor Daniel Wassenberg has expressed hopes that he and his comrades will eventually resume haunting and perhaps get back to a more elaborate version of the haunt.
REVELES HAUNTS Yard Haunt
8146 Campbell Avenue
Riverside, CA 92503
Website: www.revelshaunts.com

After three years of haunting Riverside (including 2010's Werewolves in Wonderland), this home haunt picked up stakes and moved to Wisconsin. Its website is still active, and the haunt lives on in its new location. Admission is free, but donations are accepted.
SATAN'S CHOP SHOP Halloween Home Haunt
5016 W. 118th Street
Hawthorne, CA 90250
MySpace Page: Satan's Chop Shop
The Halloween haunt went on hiatus in 2009 and 2010 because of lack of an available location. Emails to the proprietors indicated an intent to return in 2011, but that Halloween passed without a resurrection.
A gruesome gorefest, this neighborhood effort hovered somewhere between amatuer and professional: although located in a private residence, Satan's Chop Shop (judging by available photos – we never made it out) featured impressive special makeup effects crafted by Hollywood professionals. The horror show promised to scare you silly with intestines, chainsaws, and other bloody horror not seen in your average amateur Halloween yard haunt.
SCAREPLEX Halloween Haunt
Fairplex, home of the Los Angeles County Fair
1101 W. McKinley Avenue
Pomona, CA 91765
Phone: 949-660-1988
Website: www.scareplex.com
Scareplex was produced by Shipwreck Productions, the people behind the fine Queen Mary Terror Fest. Scarplex made its debut in 2004 to mediocre response; some haunt-goers complained that many of the props and settings were leftovers from the Queen Marry Terror Fest. After returning in 2005, the haunt skipped the 2006 season. In 2007, a new company took over, and the haunt was re-christened "Fearplex" (see listing above). The Haunt featured an all-night dance party and four mazes: Reaper's Revenge, Voodoo Village, Massacre Mountain, and Mayhem Manor.
Scareplex was replaced by FEARPLEX for 2007 and 2008. 2009 saw yet another new haunt at the fairgrounds, Nightmare at Scare View Farms (listed above).
SCARE AT THE FAIR: Shipwreck Productions also presented "Scare at the Fair," a single walk-through haunted house maze, during the annual L.A. County Fair. Like Scareplex, this was later replaced by a new attraction, the Haunted Manor. Read our review of the 2006 Scare at the Fair.
THE SEASIDE HAUNT Halloween Attraction
Located in Ventura, north west of Los Angeles, this Halloween attraction was renamed Seaside Haunted Theme Park and placed under new management in 2008, when it expanded from a single walk-through maze to a pair. Seaside Haunted Theme Park lasted only one season. The haunt's name and assets were sold off to the Queen Mary after the death of Bob Koritzke, who owned both Spooky House and Seaside Haunt.
SKULL KINGDOM Halloween Haunt
In 2008, the former proprietors of Seaside Haunt moved from Ventura to Woodland Hills, where they created a new Haunted House attraction for Halloween fans in Los Angeles. The haunted house walk-through lasted only a single season. Click name for more information.

SOUTH BAY MAZEMASTER Amateur Halloween Haunt
Torrance, CA
Website: www.myspace.com/torrancemaze
For a few years, this amateur attraction was open the last few days of October.  Usually located in the Torrance area of Los Angeles, this haunted maze moved to Redondo Beach for 2008; that year's theme was "Hell Shire Farms." In 2009, it offered a 70-yard walk through "Haunted Mind Shaft" with black lights, strobes, fog machines, music and monsters. The proprietor promised that the "mind-blowing sights and sounds will send you out of this world!" After this "Depths of Doom" presentation, the Mazemaster went on hiatus, and has not been heard from since.
SPOOKY HOUSE Halloween Haunt
Located in Northridge, this is one of the most popular and long-running Halloween attractions in Los Angeles, with a facade that resembles a genuine haunted house. Click name for more information.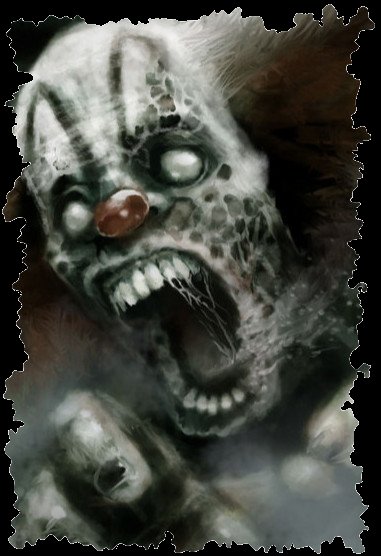 THE TERRY HAUNT Community Haunt
Anaheim, CA 92804
Website: www.terryhaunt.com
The Terry Haunt began in 1997 as a yard haunt, then gradually expanded, changing location from a private home to the La Palma Recreation Center in Anaheim for 2007. After location problems forced a hiatus in 2008, the Terry Haunt returned in 2009 with "Clownz," set in a large space that used to be a shopping market. Unfortunately, the haunt was again canceled in 2010. After promising to return in 2011 with a new theme titled "Necropolis," haunt proprietor Michael Terry posted this message on his website:
Due to recent events we will no longer be producing the Terry Haunt's Annual Haunted House. Our heartfelt thanks to all who supported us, helped us, and made our Nightmares Come True since 1997. It has been a pleasure to bring this event to life each Halloween. All the best…
The message is no longer visible on the official website, suggesting that it may not be the last word on the subject. However, there is no news of an intended revival of the Terry Haunt.
Click here for the Terry Haunt archive.
THOUSAND OAKS HAUNTED HOUSE Halloween Attraction- 2005 Only
Janns Market Place
215 North Moorpark Road
Thousand Oaks, CA 91360
This Halloween haunt ran for a single season in 2005. It featured three mazes of the "haunt in a box" variety:
Circus of Screams: According to the official website, a "Circus of Screams" visited Thousand Oaks decades ago, and many strange things happened; nothing was ever proven, and the circus departed. But many say that the spirits of the evil clowns still haunt the area.
Thousand Oaks Haunted House: an obscure filmmaker, whose movies were so sick and twisted that they were never released, mysteriously disappeared when the authorities broke in on him, but his work lives on.
Thousand Ghosts 3D Matinee: This less frightening attraction is recommend for children under 13 (and their parents with faint hearts)
This haunt was set up in a temporary structure (a large tent inside a gated area) in the parking lot of the Janss Marketplace, which now houses the Reign of Terror haunted house, which is quite superior.
Read our review of the 2005 haunt here.
TURBIDITE MANOR Haunted House - No Longer in Los Angeles
Website: click here
Formerly Part of Spooky House when it was located onParthenia Street in Northridge, California, this excellent simulation of a tour through a haunted house moved out of state in 2007, taking up residence as part of Haunted Nashville. Last time we checked, the proprietor was offering to sell off the manor.
THE TUSTIN HAUNT Amateur Halloween Attraction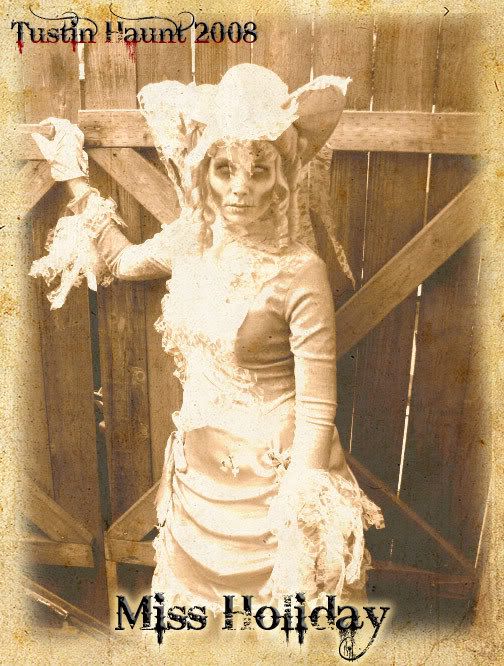 13151 Brittany Woods Drive Tustin, CA 92780
Website: TustinHaunt.com
Information: Located behind the Orange Curtain (i.e., in Organge County), this "semi-pro" attraction began haunting in 1995, hovering somewhere between a Yard Haunt and a Community Haunt. Although free, Tustin Haunt accepted $2 donations to offset costs and offered a $5 front-of-the-line pass. During their thirteen years of Halloween horror, the the haunt raised money for the community, including the Tustin Public Schools Foundation.
The last full-blown presentation was in 2008, titled "Red Hill Mining Co. Massacre," and offered a behind-the-scenes tour after Halloween, for those wanting to know how the scary effects were achieved.
In 2009, proprietor Ben Penman and his crew moved on to Sinister Pointe, a professional Halloween haunted house in Brea. Consequently, the Tustin Haunt was reduced to a yard display for two years before losing its location in 2011. The Penman expressed interest in resurrecting the walk-through portion of the haunt for 2012 but instead took a job at The Empty Grave pro haunt in Anaheim for 2012. Currently, he is uncertain whether the haunt will ever return.
VOICES OF PIONEER CEMETERY: FLASHLIGHT GHOST TOUR – 2010 Only
Pioneer Cemetery
14451 Bledsoe Street
Sylmar, CA 91342
Phone: 818-970-1286
Webpage: www.sfvhs.com
This 2010 graveyard tour was designed to benefit the Pioneer Cemetery (obtaining money to find/identify some of the old graves). With this accomplished the cemetery decided not to stage the play in 2011, although it may be resurrected in the future.
Described as "Pageant of the Masters meets Dracula," this spooky walk provided a history of Pioneer Cemetery and its inhabitants, as recounted by the souls of those interred therein.
Read our review of the event here.
THE WITCH CASTLE Yard Haunt
A spooky, fun, kid-friendly yard haunt in Studio City – once among the best ways for families to spend Halloween in Los Angeles. Click name for more information.